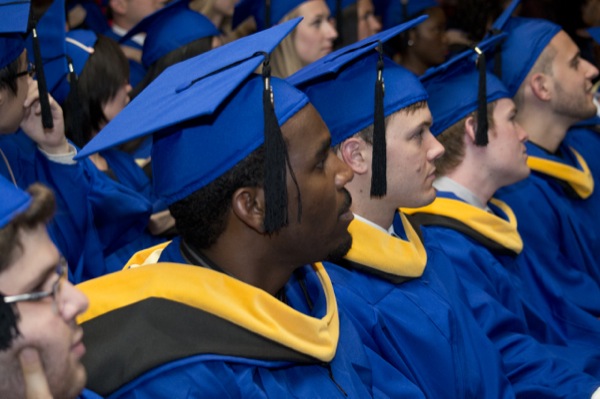 MBA a good ROI
UD provides economical tuition rates to MBA students
7 p.m., July 31, 2014--In an effort to make the University of Delaware's master of business administration (MBA) accessible to the broadest audience of qualified candidates possible, the Graduate and Executive Programs office in the Alfred Lerner College of Business and Economics has announced tuition rates effective for the 2014-15 academic year.
Delaware residents will be eligible for a base rate of $750 per credit hour, while the rate for domestic non-Delaware residents will be $1,000 per credit hour. The Lerner College also offers additional tuition scholarships for highly qualified students.
From graduates, faculty
As it neared time for the processional to open the University of Delaware Commencement ceremonies, graduating students and faculty members shared their feelings about what the event means to them.
Doctoral hooding
It was a day of triumph, cheers and collective relief as more than 160 students from 21 nations participated in the University of Delaware's Doctoral Hooding Convocation held Friday morning on The Green.
"The MBA is priced at a very competitive rate," said Jack Baroudi, associate dean of graduate and executive programs in the Lerner College. "Money should not be the reason why a student doesn't come here."
An MBA from UD offers a high return on educational investment: While the base cost of a full-time MBA for a Delaware resident is $27,000, alumni of Lerner College graduate programs gain employment upon graduation with an average starting salary of $83,000. 
The program also continues to receive kudos from various ranking outlets.
"We are a top 10 program regionally, top 50 nationally and number one in Delaware," said Baroudi, referencing the program's placement at 46 in the 2015 U.S. News and World Report Best Grad School rankings and its number seven spot in the Mid-Atlantic region in the 2013 Bloomberg Businessweek rankings.
Baroudi also pointed out that the program's average class size of 27 enables faculty to provide personal attention to students, while each student also has access to a career coach.
"It's important to help Delaware students access our MBA program at the best possible rates," added Bruce Weber, dean of the Lerner College. Weber explained that the MBA program provides unique opportunities for its students to connect with businesses and business leaders.
For example, the annual Carol A. Ammon Case Competition gives MBA students the opportunity to work with companies like Dogfish Head Brewery and Southwest Airlines. At the competition's end students share their ideas with the leaders of these companies, as well as a panel of judges and stakeholders from the business community.
The Executive Mentors Scholars (EMS) Program connects MBA students with local businesspeople for one-on-one internships. Student career objectives are paired with the professional backgrounds of executives, enabling MBA students to hone their skills in preparation for successful employment and promotion.
"Students who want to start a business are also going to be very well supported," said Weber of The Horn Program in Entrepreneurship, which provides resources for students to translate the skills they've learned in the classroom into the creation of their own start-up companies. 
The Horn Program's recently opened Venture Development Center provides an environment for students to "take ideas out of the academic environment and into the real world."
"It's creating an incubator for new businesses," said Weber. 
MBA students also experience the fast-paced world of financial markets in the Lerner College Trading Center. This educational facility is designed to replicate the trading floors of Wall Street and incorporates industry-quality software and market data feeds.
The UD MBA program strives to provide these resources while offering the best value possible. 
"The UD MBA has got your back," said Baroudi. "We're aware that these are tough times, and we know that an MBA is your ticket to success in the business world."
Article by Sunny Rosen