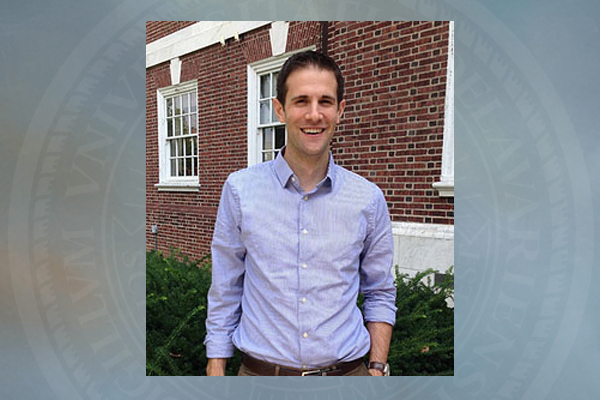 Long-lasting impact
Early caregiving predicts social, academic development decades after infancy
10:55 a.m., Jan. 20, 2015--A study that has followed the lives of a group of individuals for more than 30 years has found that the kind of care they received as babies and toddlers continues to predict their social and academic achievements well into adulthood — much longer than previously thought.
The new research, published last month in the journal Child Development, was led by Lee Raby, a postdoctoral researcher in the University of Delaware's Department of Psychological and Brain Sciences. 
Chronic wounds
UD's Millicent Sullivan and Kristi Kiick have received a $1.4 million grant from the National Institutes of Health for research that could provide a new approach to the treatment of chronic wounds.
Prof. Heck's legacy
The American Chemical Society is highlighting the legacy of the late Nobel laureate Richard Heck, the Willis F. Harrington Professor Emeritus of Chemistry at the University of Delaware with a digital tribute on its publications website.
Raby worked with researchers at the University of Illinois at Urbana-Champaign and the University of Minnesota, where the Minnesota Longitudinal Study of Risk and Adaptation began 32 years ago.
"The implicit idea in the field had been that the significance of early childhood experiences would lessen as people get older," Raby said. "So in many ways, it was surprising to see these long-term associations between sensitive early caregiving and later success as adults. We found that the associations endure rather than fading over time."
The focus of the research was on early caregiving that can be considered "sensitive," meaning that the parent responds appropriately and promptly to a child's signals, interacts positively with the child and provides security as the child explores his or her environment.
The Minnesota project, which Raby calls "a really remarkable study," has collected information from 243 individuals who were born into poverty, beginning by interviewing their mothers while they were pregnant and immediately after giving birth. Until age 3, researchers periodically observed the children and their interactions with their mothers; later, data was collected from teachers, and beginning in their 20s, the individuals who wanted to continue participating have been interviewed at regular intervals.
"I began working with them when they were about 30, interviewing them and also making use of the data that was previously collected," Raby said. "I really am standing on the shoulders of hundreds of researchers before me, and more will follow. This study is a continuum."
The latest results follow a study that found that early maternal sensitivity is associated with children's social and cognitive development at least through adolescence. Raby and his fellow researchers now have found that individuals who had more sensitive caregiving as young children consistently functioned better socially and academically through their 20s and early 30s.
"So we can see that something really important is going on with early caregiving," said Raby, who noted that early childhood is a period of rapid brain development, which is affected by the child's environment. "We're not sure yet of exactly what is going on. Pursuing that is part of why I came to the University of Delaware."
At UD, Raby is working in the Infant Caregiver Lab with Mary Dozier, the Unidel Amy E. du Pont Chair in Child Development. Dozier has developed a 10-week intervention for at-risk caregivers that has been used effectively in such situations as foster care, international adoption and families involved with child-protective services.
Her research team, including Raby, is conducting follow-up assessments of children whose parents took part in the interventions to evaluate the children's development up to 10 years later. 
"We can look at the interventions and answer the question: Did the parenting get better? But we also want to answer: Do the kids do better?" Raby said. Dozier, he said, is investigating biological measures to get a snapshot of brain activity, while also researching parent-child relationships and behavior.
"Most researchers do one or the other, but she is great at bridging the two areas of study," Raby said. "That's why I'm in Delaware."
The study was funded by the Eunice Kennedy Shriver National Institute of Child Health and Human Development, the National Institute of Mental Health and the University of Minnesota.
Article by Ann Manser, with additional information from the Society for Research in Child Development