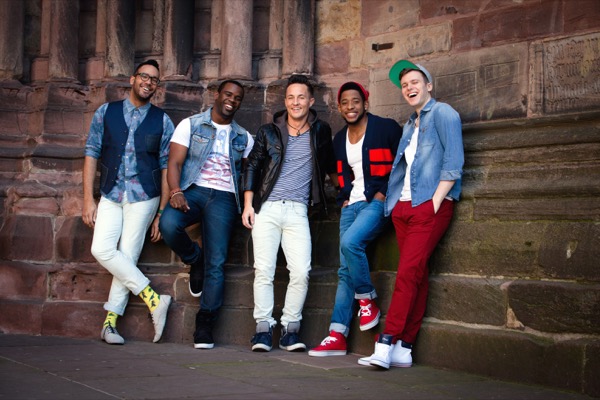 Alum on 'Sing-Off'
UD alumnus to perform on NBC's 'Sing-Off' with group The Exchange
2:03 p.m., Dec. 10, 2014--University of Delaware alumnus Alfredo Austin, who has enjoyed music since early childhood, will appear Wednesday, Dec. 17, on NBC's The Sing-Off as a member of the a cappella group The Exchange.
The two-hour Sing-Off holiday season special will air from 9-11 p.m. with host Nick Lachey and judges Shawn Stockman, Jewel and Patrick Stump.
'Resilience Engineering'
The University of Delaware's Nii Attoh-Okine recently published a new book with Cambridge University Press, "Resilience Engineering: Models and Analysis."
Reviresco June run
UD ROTC cadets will run from New York City to Miami this month to raise awareness about veterans' affairs.
The Exchange, a five-member vocal pop band that formed in 2012, will compete for the show's coveted title and a $50,000 cash prize.
Austin, a 2008 UD music graduate who performed with Vocal Point while on campus, is joined in the group by Jamal Moore of Augusta, Georgia, Richard Steighner of Denver, Aaron Sperber of Rochester, New York, and Christopher Diaz of Newport News, Virginia.
Learning that The Exchange had been selected for The Sing-Off "felt great," Austin said.
He had auditioned with several other bands for the show but said "this was the perfect group to get on the show with – it's like performing on stage with your brothers."
Members of The Exchange were "all connected through a previous season of The Sing-Off," Austin said, with Sperber and Moore having performed with the University of Rochester group called The Yellowjackets, Steighner having been the beatboxer for a hip hop a cappella group called Urban Method and Diaz having been the vocal coach on the show. 
"We all met up after the show had aired and we realized that we really got along and were also impressed with each other's talents, so we put our powers together and what came out was a pretty awesome explosive fusion," Austin said.
Asked about the style viewers can expect of The Exchange, Austin said, "We are a party. We love to run around the stage, in the audience, have fun. We love high, fast and fun music. And we sprinkle some other stuff in there to keep it fresh."
He said the group tries to be interactive, explaining, "We want the audience to feel like they are part of the show, not just watching the show.
The Exchange has provided him an opportunity to perform around the world, Austin said, with the group having been on stage throughout Europe, Asia, Australia, North America and Latin America.
Love of music
Austin said he has a longstanding love of music, noting "my mom says I was singing since I was in the car seat. She put me in gospel choir at age 4 and I did school choirs, musicals and gospel choir all through high school."
When he arrived on the UD campus in Newark, Austin said he wanted to find an outlet for music, found a booth for Vocal Point at the student activities fair and signed up.
"I auditioned for Vocal Point and got in," he said. "I had no experience with contemporary a cappella but I fell in love with it quickly. I became the music director of the group my final year at UD and I still am very close with Vocal Point today. It's been amazing to see how much they have grown since my time. It's actually great to see such a strong a cappella community at UD."
During his time at UD, Austin said he "came across some great people, great friends and professors."
He said faculty members Daniel Cole, his voice instructor, and Paul Head, professor of music, provided important life lessons. "Both taught me that it doesn't matter how talented you are if you don't work at your craft. I didn't quite realize that when I was younger but I always take that lesson with me."
He added that Nate Hall and Tyler and Jenny Somers "are a few people that I went to school with that really let me know that you can follow your musical dreams. They have all been a huge motivator for me."