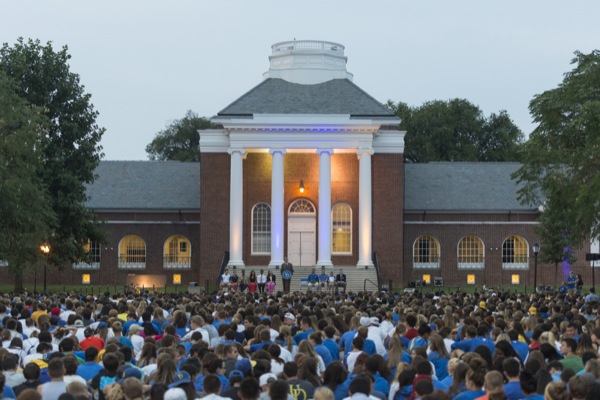 1743 Welcome Days
Special events invite new Hens to connect, explore, contribute
3:16 p.m., Aug. 19, 2014--With the fall semester poised to begin at the University of Delaware, now is a good time for arriving Blue Hens to visit the updated 1743 Welcome Days website for a full schedule of opening week festivities.
Saturday, Aug. 23
From graduates, faculty
As it neared time for the processional to open the University of Delaware Commencement ceremonies, graduating students and faculty members shared their feelings about what the event means to them.
Doctoral hooding
It was a day of triumph, cheers and collective relief as more than 160 students from 21 nations participated in the University of Delaware's Doctoral Hooding Convocation held Friday morning on The Green.
Things get started on Saturday, Aug. 23, as students move into their residence halls.
A reception for incoming commuter students will be held in the West Lounge in the Perkins Student Center at 7:30 p.m. that evening
The annual Campus Breakout, hosted by the University Student Centers, will begin at 8:30 p.m., in both the Trabant and Perkins Student Centers. Live performances, a variety of games, giveaways, dancing, DJs and UDairy Creamery ice cream top the list of activities offered at both locations. 
Headphone Disco will be offering a silent two-channel, two-DJ show beginning at 11 p.m., Saturday, on the South Green.
Sunday, Aug. 24
1743 Welcome Day activities will continue on Sunday with:
Religious services and welcome events throughout the day; 
Each One Reach One mentee orientation from 8:30-11 a.m. in the Rodney Room of the Perkins Student Center;
Activities for commuter students and residence hall students kick off at 10 a.m. Visit the website for a complete listing;
Activities Night, featuring opportunities to meet representatives of more than 300 registered student organizations (RSOs) in Trabant University Center and Perkins Student Center, will be held from 6:30-9 p.m.;
Target back-to-school shopping with complimentary bus transportation;
New student Little Bob first night open gym in the Carpenter Sports Building; and 
Hen Zone Madness in the Hen Zone at Perkins Student Center.
Monday, Aug. 25
Various orientations and open houses will be held on Monday, as will the Campus Connections Carnival, from 2-4 p.m., in the Interdisciplinary Science and Engineering Laboratory (ISE Lab), featuring representatives of multiple UD departments. 
"Where's My Class?" will be held from 2-4 p.m., in the ISE Lab, with tours departing every 15 minutes.
The Lavender Room, a welcoming event for the LGBT community and their allies, will be held in the West Lounge in the Perkins Student Center from 4-6 p.m.
The Class of 2018 Twilight Induction Ceremony will begin on the South Green at 7:15 p.m.
At both the Campus Connections Carnival and the Twilight Induction Ceremony, members of the Class of 2018 will have opportunities to sign their class banner, which is sponsored by the UD Alumni Association.
The Barnes and Noble UD Bookstore VIP shopping event will be held from 3-5 p.m. on the outside courtyard. In case of inclement weather the event will be held inside the bookstore. 
In the event of inclement weather, changes to the 1743 Welcome Days schedule will be posted on the website.
1743 Welcome Days, organized by UD's Division of Student Life for the First Year Experience, furthers connections forged at New Student Orientation and assists students in acclimating to life at UD.
All members of the University community are invited to participate in welcoming the Class of 2018 to UD, and can join social media conversation by using the hashtag #UDwelcome. Click here to see the Storify site.
Article by Jerry Rhodes
Photo by Evan Krape