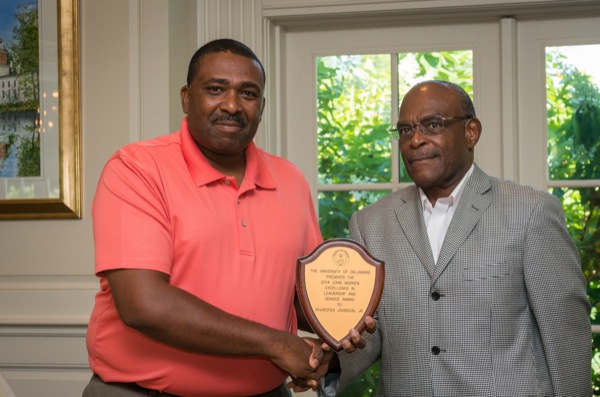 Warren Award
Johnson receives John Warren Excellence in Leadership and Service Award
10:52 a.m., Aug. 20, 2014--Sylvester Johnson, director of custodial and university services at the University of Delaware, was presented with the John Warren Excellence in Leadership and Service Award during a ceremony held Friday, Aug. 15, at Deerfield.
The Warren Award recognizes significant accomplishments and notable contributions in leadership by University supervisory staff. The award includes a $1,000 gift.
National Medal of Science
President Barack Obama recently presented the National Medal of Science to University of Delaware alumnus Rakesh Jain.
Warren Award
Rosalind Johnson, assistant dean for student success in the NUCLEUS Program in UD's College of Arts and Sciences, was presented the John Warren Excellence in Leadership and Service Award during a May 26 ceremony.
Johnson is the successor to Warren, who the award honors, and Warren himself presented it during the ceremony.
"Sylvester is an individual who brings positive change to the University with a pleasant and business-type personality," said Alan Brangman, vice president for facilities, real estate and auxiliary services, and Verlyn Rayfield, manager, custodial and university services, in nominating Johnson for the award. "He displays an open and honest disposition with a genuine compassion for people. He always finds time to listen to every concern that employees share and is diligent to rectify problems. Sylvester takes on and enjoys new challenges with no complaints. He is such an asset to this University."
Another one of Johnson's managers, Valerie Kuhlman, said, "Sylvester had taken on additional responsibilities, one that included snow removal. What a season to be responsible for snow removal! Sylvester took advantage of this challenge head on. It was important to him to learn the challenges these employees were faced with at 3 a.m. in an effort to gain their respect and trust. Sylvester has had to make some tough decisions, but has done so with integrity and trust."
Rich Noonan, also a manager, said, "Mr. Johnson has provided those reporting to him with outstanding guidance and direction. He demands the best from us. He listens. He gives credit when it is earned. He is involved. He is respected. He is a leader."
Two John Warren Excellence in Leadership and Service Awards were presented this year. The other award went to Paul Pusecker on June 11.
Photo by Kathy F. Atkinson