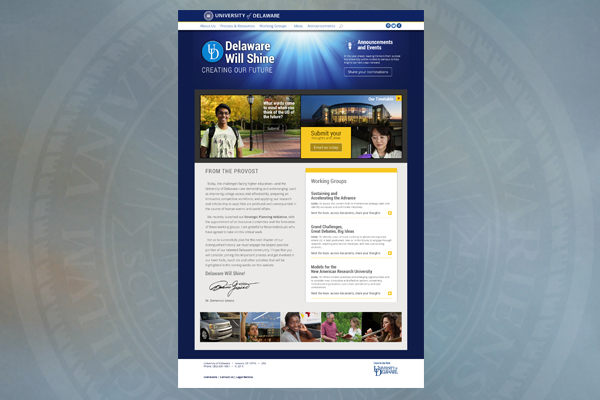 'Creating Our Future'
University's new strategic planning website now online
9:44 a.m., Aug. 11, 2014--The University of Delaware's strategic planning initiative, "Delaware Will Shine: Creating Our Future," now has a bright, interactive website at www.udel.edu/shine.
"'Delaware Will Shine' is a great name that reflects the strength of this institution as a nationally recognized research university that is growing even stronger," said UD Provost Domenico Grasso. "The name was chosen after considerable discussion and was the collective decision of our strategic planning executive commitee. Working together as a University community, I'm confident that we will define where UD can have its most significant impact in addressing the world's most pressing problems while keeping our programs affordable, accessible and transformative."
June 6: UDid It! Picnic
All UD faculty and staff members are invited to attend the annual UDid It! employee appreciation picnic, set from 11 a.m.-1:30 p.m., Monday, June 6, on The Green.
2FA protects you
If you are using two-factor authentication (2FA), even if a hacker has your password, your information is probably safe.
The website identifies the executive committee and three working groups that are leading the effort. They have been busy meeting throughout the summer developing concept papers, organizing communications and planning activities for the fall semester to engage the University community in digging deep into UD's mission and thinking boldly about how to tackle the challenges that lie ahead. 
The working groups are focusing on "Sustaining and Accelerating the Advance," "Grand Challenges, Great Debates and Big Ideas," and "Models for the New American Research University." 
In addition to an overview and timeframe for the planning process, the website includes an "Ideas" page to solicit and share input through a blog and future concept papers. The University community also is invited to submit the words that come to mind when they think of the UD of the future — these words will be used to generate word clouds, which will be shared on the website and via social media on a frequent basis.
The Announcements page includes news and coming events, such as presentations by leading thinkers, or "thought leaders," from outside campus, as well as town halls. More details about the speakers will be available in the near future.
"We want everyone to feel that they are a part of this process," Grasso said. "The website will provide a central source for sharing information as we create the UD of the future together." 
The website was developed by David Barczak and Tracey Bryant, through a collaboration of the Office of Communications and Marketing and the Research Office, and with the assistance of Information Technologies.