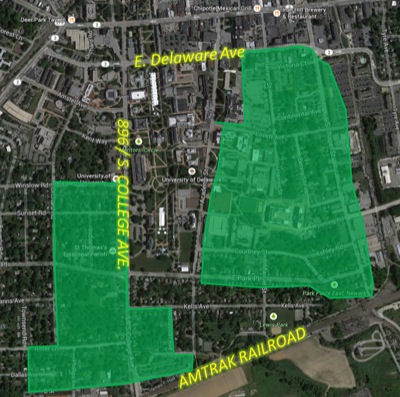 City testing
Newark to conduct smoke testing of sanitary sewers beginning Aug. 11
10:04 a.m., Aug. 6, 2014--The city of Newark will begin smoke testing of its sanitary sewers the week of Aug. 11, beginning in the Kells Avenue area, near the University campus. 
The testing involves blowing smoke into sewer lines to reveal places where storm and other surface waters are entering the sanitary system. During the testing, gray smoke may exit through vent pipes on roofs of homes and through sewer line breaks.
June 6: UDid It! Picnic
All UD faculty and staff members are invited to attend the annual UDid It! employee appreciation picnic, set from 11 a.m.-1:30 p.m., Monday, June 6, on The Green.
2FA protects you
If you are using two-factor authentication (2FA), even if a hacker has your password, your information is probably safe.
The smoke used in the testing is non-toxic, leaves no residue and creates no fire hazard.
Residents in the neighborhoods where testing is being conducted are receiving notification with details about the process and what to do if smoke enters their residence.
Anyone with questions about this testing should contact Jim Morrissey of Savin Engineers at 914-769-3200, ext. 225, or Rob Koechert at 302-266-9600.
During the actual testing should the non-toxic smoke be seen within UD buildings, please contact the Department of Environmental Health and Safety at 302-831-8475.