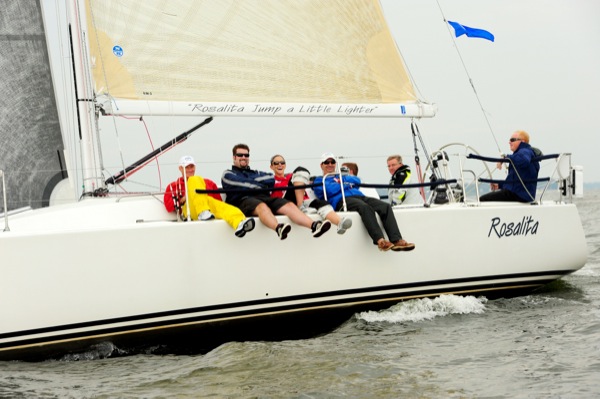 All hands on deck
UD contingent competes in Maryland Governor's Cup Yacht Race
12:29 p.m., Aug. 13, 2014--It may be called the Maryland Governor's Cup Yacht Race, but the annual overnight distance race from Annapolis to St. Mary's City earlier this month included some familiar University of Delaware faces. 
Current members of the UD Sailing Club intercollegiate racing team, along with alumni and adviser Steven J. Stanhope were among the hardy souls who braved monsoon-like rains during the 70-mile excursion, the oldest and longest overnight race on the Chesapeake Bay.  
'Resilience Engineering'
The University of Delaware's Nii Attoh-Okine recently published a new book with Cambridge University Press, "Resilience Engineering: Models and Analysis."
Reviresco June run
UD ROTC cadets will run from New York City to Miami this month to raise awareness about veterans' affairs.
Stanhope and UD alumna Rachel Gregor were part of the crew for Rosalita, which won not only its class but the overall race as well. It bested 85 other boats from several classes in the 41st-annual competition. 
"We used the storm to our advantage and made choices that I think helped to push us to the win. We had a great crew that knew their roles well," said Gregor, who graduated from UD in 2011 and is vice president of the Alumni Sailing Association. 
Along with Gregor and Stanhope, UD alum Phillip Clarke also took part in the race, serving on the crew for Singularity, a 35-foot racing yacht. UD students Ian Berke, a biomechanical engineering major, and Tyler Frees, a business management major, served as crew for Blofish, another boat in the race.  
"I'd never done a race that took more than an hour, and this one took about 10 hours. It was pouring rain and pitch black the entire time. For myself and Tyler, we didn't know what we were getting ourselves into," Berke said with a laugh. "It was definitely way different than just racing on dinghies, which is what we usually do." 
Both Rosalita and Blofish sail out of the North East River Yacht Club (NERYC) in North East, Maryland, which became the home of the UD sailing program in 2013. In that time, the UD team has become competitive on its fleet of Flying Junior sailing dinghies, said Stanhope, professor and associate vice provost for research at UD. 
The team is working toward establishing a fleet of keel racing sailboats, with the goal of having the UD sailing program competing in regattas throughout the Chesapeake Bay. 
"Teaming with NERYC members to compete in and win the Governor's Cup speaks for the strength of the UD/NERYC partnership," Stanhope said. "What an experience for the students and alumni and NERYC members."
Rosalita sailed out of the Annapolis Harbor at 6:10 p.m. Aug. 1, following the firing of a cannon from the deck of the Pride of Baltimore II. While the majority of the fleet sprinted down the western edge of the Chesapeake Bay, Rosalita owner and skipper Rick Hanson navigated his boat toward its eastern edge. His strategy was to position Rosalita for an asymmetric spinnaker run down the length of the bay. 
The ominous skies and windy conditions over the southern bay offered a foreboding taste of what was to come. "We knew it was going to be a wet and wild ride Friday night," Stanhope said. 
They were right. 
At one point, Rosalita's bow plunged through a rogue wave, washing the crew in waist-deep water. But by midnight, they began passing a fleet of boats in a slower class that had started the race hours earlier.
Over on Blofish, Berke and Frees faced their own challenges. Berke helped raise and lower sails a few times, but he spent the majority of the race on the windward rail trying to keep the weight on that side. 
At one point, all of the navigation instruments on the boat went out. That, combined with the dark and wind, made for a night of sailing he won't forget. "You couldn't really see what was going on," said Berke, who joined the UD sailing team as a freshman. 
For Clarke, who has sailed with the Singularity crew for six years, the conditions were just what the crew wanted. Singularity came in sixth in its class and placed 12th overall in the race.
"This boat is designed to handle high winds. It's better for us," said Clarke, who graduated in 2010 and now works as a paralegal in Arlington, Virginia. "But it was definitely the rainiest one I've ever done." 
Just after 4 a.m., the crew of Rosalita heard the roar of the cannon blast as they crossed the finish line first in their class, just 10 hours after their start. Gregor, who raced in her second Governor's Cup this year, said that while this kind of big boat racing is much different than college sailing, she appreciates the opportunity afforded by UD's club sport. 
"It's great just the fact UD has a sailing team, and that they accept anyone who wants to be part of it," Clarke said.
Next up for the UD sailors is Saturday's Bay Jam Regatta, sponsored by the Chesapeake Bay Yacht Racing Association.
Article by Kelly Bothum
Photo courtesy of PhotoBoat.com