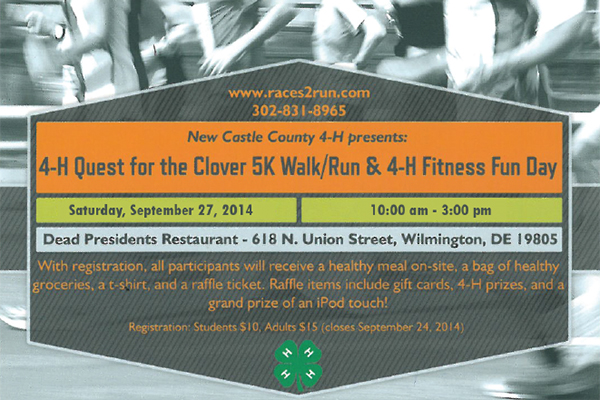 Sept. 27: Quest for the Clover
New Castle County 4-H to hold 5K walk and run, Fitness Fun Day
11:01 a.m., Aug. 29, 2014--New Castle County 4-H and the 4-H Food Smart Families program will hold the third annual Quest for the Clover 5K walk and run and a 4-H Fitness Fun Day on Saturday, Sept. 27, in Wilmington. 
The race check-in is at 9 a.m. and the race starts at 10 a.m.
June 5: Blue Hen 5K
University of Delaware graduates planning to attend Alumni Weekend are encouraged to register for the annual Blue Hen 5K walk and run, which will be held Sunday morning, June 5.
June 6-9: Food and culture series
The 20th annual June Lecture Series at the Osher Lifelong Learning Institute at UD in Wilmington will be held June 6-9. Titled 'June a la Carte,' this year's program focuses on great political documents, feminism, world politics and a Newark cuisine sampler.
Through the involvement of the 4-H Food Smart Families program, this year will also feature a 4-H Fitness Fun Day after the race from 11 a.m.-3 p.m. Lunch will be served and each family will receive a bag of groceries. There will also be stations set up to allow participants to play different games, taste test different products and learn about being healthy and fit. 
The race will be held at Dead President's Restaurant, 618 N. Union St., in Wilmington. 
Participants will receive T-shirts and be entered into a raffle where they will have the opportunity to win gift cards, 4-H prizes and the grand prize of an iPod Touch. 
All proceeds will benefit the New Castle County 4-H program on both the county and club level. 
4-H is a youth development organization serving children ages 5-19 that covers hundreds of project areas and strives to reach youth in three national mission mandates: healthy living, citizenship and science.
Participants are encouraged to pre-register for the race. Registration ends Sept. 24 and the cost is $10 for youth, students and children and $15 for adults. 
Registration is available online at Races 2 Run.
For more information, contact Mallory Vogl.
For 4-H volunteer opportunities, contact the 4-H office at 302-831-8965.