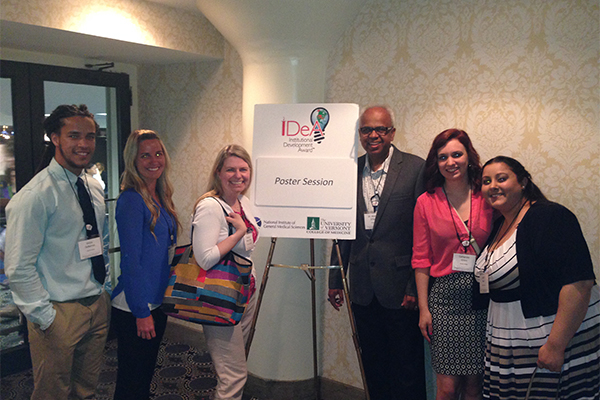 NISBRE biennial
Delaware researchers, students present at national symposium
9:17 a.m., Aug. 7, 2014--Researchers and students from academic and medical institutions across Delaware shared the spotlight in Washington, D.C., at the fifth annual NISBRE symposium. The biennial conference highlights the successes of the National Institute of General Medical Science's Institutional Development Award program, or IDeA.
More than 45 representatives from the University of Delaware, Nemours/Alfred I. duPont Hospital for Children, Wesley College, Delaware Technical Community College and Delaware State University attended and also presented at the national conference. 
Chronic wounds
UD's Millicent Sullivan and Kristi Kiick have received a $1.4 million grant from the National Institutes of Health for research that could provide a new approach to the treatment of chronic wounds.
Prof. Heck's legacy
The American Chemical Society is highlighting the legacy of the late Nobel laureate Richard Heck, the Willis F. Harrington Professor Emeritus of Chemistry at the University of Delaware with a digital tribute on its publications website.
"Delaware is a model IDeA state and the NISBRE meeting is our opportunity to shine on a national scale," said Steven J. Stanhope, UD associate vice provost and principal investigator for Delaware INBRE. 
Delaware is one of 23 states and Puerto Rico that receive IDeA grants, which aim to build research capacities in states with historically low levels of funding from the National Institutes of Health. The grants support basic, clinical and translational research; faculty development; and infrastructure improvements.
The First State has received more than $136 million in IDeA funding, making it a top recipient of these awards. 
The NISBRE conference celebrated the success of two IDeA programs: IDeA Networks of Biomedical Research Excellence, or INBRE, and Center of Biomedical Research Excellence, known as COBRE. 
The Delaware INBRE includes researchers and students from the University of Delaware, Wesley College, Delaware State University, Delaware Technical Community College. The state also is home to five COBREs.
NISBRE highlights the scientific and training accomplishments of the IDeA program, and that includes students as well as investigators. Three research abstracts submitted for poster presentation by Nemours investigators were selected for oral presentation during the scientific sessions.
Four Wesley College students also presented posters, including one by biology senior Karri-Jo Walls examining body mass index trends of Wesley students. Her poster was highlighted by the Division of Epidemiology and Public Health. 
Stephen Smith, a Delaware Technical Community College student and INBRE Summer Scholar for the last two years, presented a poster on a bacterial genome that he helped assemble and annotate with faculty members.
Malcolm D'Souza, a chemistry professor and investigator at Wesley, said the opportunity to present at a national conference means more for students than just the chance to talk about their research.  
"A majority of the Wesley undergraduates are from underrepresented populations or are first-generation," said, D'Souza, who was a finalist for NISBRE's Sidney McNairy Mentoring Award, which recognizes a collegiate faculty member dedicated to mentoring the next generation of scientists. "Exposure during national conferences brings valuable experiences and varied perspectives about job and graduate opportunities in STEM fields."
It was the second professional conference for Walls, who wound up staying an extra day because her poster was highlighted. In addition to presenting her poster along with 500 other people, she also had the chance to talk more in depth about her research as one of about eight people whose posters were highlighted by the Division of Epidemiology and Public Health. 
"It's intimidating because you are competing against people with PhDs and who are in grad school," said Walls, who found that 48 percent of the 300 Wesley students she surveyed were overweight or obese. "It's also really rewarding to be given the opportunity." 
One of the goals of Delaware INBRE is to help build a new generation of biomedical researchers across the partnering institutions. In many cases, undergraduate students go on to work with or attend another partnering school or facility. 
"By including our students in this important event we not only emphasize our educational program successes but also support our student researchers in their future biomedical studies," said Rebekah R. Helton, chair of the education and professional development core for Delaware INBRE.
Delaware INBRE also oversaw the awarding of 10 travel awards for core personnel involved in an INBRE, COBRE or CTSA program. Katia Sol-Church, co-director of the Delaware INBRE Research Instrumentation Core, selected winners based on how their attendance would enhance their core operation and professional growth. Sol-Church also oversaw a special core track session that was attended by more than 70 people.  
"It was rewarding to see so many dedicated professionals representing a wide range of technologies and operational models coming together to discuss the pivotal roles cores must play in biomedical research," said Sol-Church, who served as chair of the National IDeA-funded Core Laboratory and also was a member of the NISBRE organizing committee. 
Delaware ranks first among the states in the number of publications per one million dollars of research funding, Stanhope said. For every dollar of IDeA funding the state has received, researchers have obtained an additional $2 in researching funding support. Over 11 years, that's accounted for $410 million in funding and 4,500 one-year jobs in Delaware.
"The secrets to our success -- remarkably talented professionals having a 'can do' attitude, an unmatched ability to partner across this great collaboration state and unwavering support from our state government," Stanhope said. 
Article by Kelly Bothum