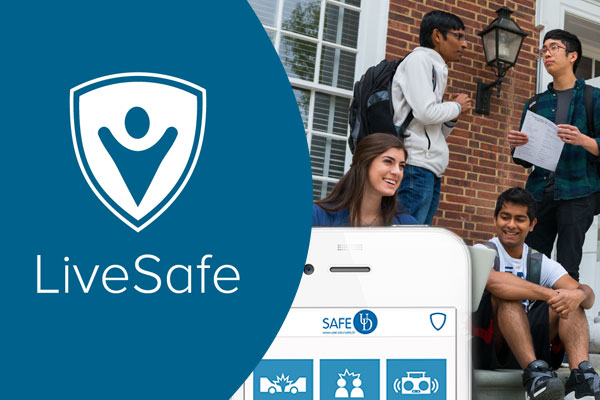 App for safety
UD implements LiveSafe app for increased campus safety
4:15 p.m., Aug. 27, 2014--The University of Delaware has launched a smartphone safety app that helps campuses prevent crime and better respond to incidents, making students even safer while at school. 
The LiveSafe app modernizes communication between the campus community and safety officials by leveraging key components of smartphone technology, including GPS-location, camera and text capabilities. It allows UD students, faculty and staff to directly and seamlessly contact UDPD for a range of safety issues.  
June 6: UDid It! Picnic
All UD faculty and staff members are invited to attend the annual UDid It! employee appreciation picnic, set from 11 a.m.-1:30 p.m., Monday, June 6, on The Green.
2FA protects you
If you are using two-factor authentication (2FA), even if a hacker has your password, your information is probably safe.
The free app's core features include quick tip submittal via text with picture and video attachments (including the option to stay anonymous), live chat with UD Police, quick access to emergency phone numbers that initiate location tracking when dialed, a comprehensive safety map that pinpoints incidents on or near campus, and peer-to-peer location monitoring with a concurrent group chat feature called SafeWalk. Additionally, app users can receive important broadcast notifications sent by UD Police.
"The LiveSafe app is an excellent tool that will empower all individuals in our community to help maintain a safe campus," said Patrick Ogden, chief of the UD Police Department. "We are committed to providing our students with the best tools and technology to enhance their safety. Students are now able to have a virtual blue light emergency phone in their pocket with the LiveSafe app. I believe this is the next natural step in keeping pace with their technologically led lives." 
"The Student Government Association works proactively to improve safety on campus," said SGA President Ben Page-Gil. "We were very interested to learn about the LiveSafe app, which the University Police leadership demonstrated to us last spring. We are very pleased that the police department has made this investment, and we believe every student can play an important role in enhancing safety on our campus through the use of this state-of-the-art technology."
LiveSafe is available to the University of Delaware community to download for free on iPhone and Android devices. The app can be downloaded at iTunes or Google Play.
At the same time the app is being released, the University has unveiled a campus-wide safety awareness campaign with the theme "A safe UD starts with me." The campaign stresses the importance of the community, watching out for one another, being aware of what's going on and reporting suspicious activity to the police. Details on the campaign are available at a special website. 
About LiveSafe Inc.
LiveSafe provides a comprehensive safety solution that empowers individuals to make themselves and their communities safer. Through a personal safety smartphone app linked to a cloud-based command center, LiveSafe enables increased safety by creating a new two-way channel of communication between the community and safety officials whether in schools, military installations, shopping malls or even sporting events. 
LiveSafe provides users a suite of emergency services for real-time location tracking in distress situations. With LiveSafe, safety officials are able to better identify and assess threats, prevent crimes and save lives, thus enhancing overall safety. Finally, LiveSafe enables enhanced peer-to-peer safety tools for when users prefer not to contact authorities. For more information, visit www.livesafemobile.com and follow LiveSafe on Twitter at @LiveSafeApp.