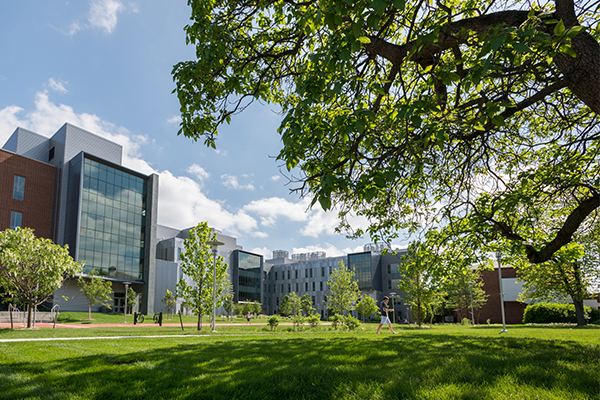 Growth in giving
Donors contribute record $63.9 million to University
2:03 p.m., Aug. 7, 2014--Fiscal year 2014 marked another record-setting fundraising year for the University of Delaware, with more than 37,000 donors contributing $63.9 million to support students, faculty, facilities and operations.
"We're so grateful for the private support that propels UD forward," says President Patrick Harker. "We firmly believe that the work we're doing — giving our students an affordable, first-rate education while developing the research to address today's complex problems — is essential. The fact that so many alumni and friends share this belief is deeply gratifying."
From graduates, faculty
As it neared time for the processional to open the University of Delaware Commencement ceremonies, graduating students and faculty members shared their feelings about what the event means to them.
Doctoral hooding
It was a day of triumph, cheers and collective relief as more than 160 students from 21 nations participated in the University of Delaware's Doctoral Hooding Convocation held Friday morning on The Green.
The past six years have seen an impressive increase in private philanthropy, with donor support growing from $26.4 million in 2008-09 to more than double that figure this past fiscal year.
"We can see the tremendous impact of these gifts," says Monica Taylor, vice president of development and alumni relations, who cites the increase in student support and the opening of the Interdisciplinary Science and Engineering Laboratory (ISE Lab) as two prominent examples. 
UD students benefit every day from the philanthropic support of UD alumni and friends – from the buildings where they learn, to the faculty who help to open their minds to new ideas and the incredible research opportunities available to them. These are all made possible by the generosity of UD constituents.
ISE Lab, the single largest academic building project in the University's history, relies heavily on philanthropy as a funding component. Officially opened in October 2013, ISE Lab serves as an incubator for research and innovation and a training ground for students and future scientists. 
"We're doing everything to make a UD education accessible and affordable, all while shaping the national dialogue on issues that matter most and solving some of the most persistent problems that still plague us," says Harker. "This is why private support is so vital — it strengthens our mission and takes us from great to even greater."
Philanthropic gifts to the University are managed by the Office of Development and Alumni Relations.