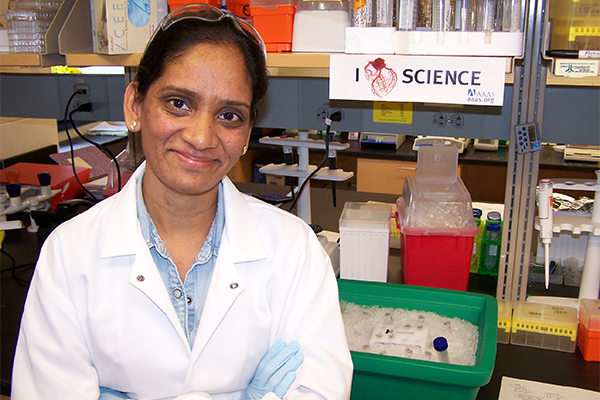 National fellowship
Doctoral student wins national Fight for Sight fellowship award
10:12 a.m., Aug. 13, 2014--Archana Siddam, a third year doctoral student in Salil Lachke's laboratory in the University of Delaware Department of Biological Sciences, has won a national level competitive summer student fellowship award from Fight for Sight, the first nonprofit organization in the United States to promote eye research.
Siddam's research focuses on understanding the function of a new RNA binding protein called Celf1 that is associated with the leading eye disease cataract, which results due to the clouding of the lens.
National Medal of Science
President Barack Obama recently presented the National Medal of Science to University of Delaware alumnus Rakesh Jain.
Warren Award
Rosalind Johnson, assistant dean for student success in the NUCLEUS Program in UD's College of Arts and Sciences, was presented the John Warren Excellence in Leadership and Service Award during a May 26 ceremony.
Cataracts affect 50 percent of Americans over the age of 85 and, at lower incidence, also occur in newborns.
It remains the leading cause of blindness worldwide and its treatment is the single most expensive surgical cost in the country's Medicare budget. 
Siddam's doctoral research investigates the molecular changes that occur in the lens when Celf1 is specifically deleted in this tissue. 
Importantly, although focused on the lens, her work promises to expand the general understanding of mammalian development by elucidating the different levels at which expression of genes are controlled during organogenesis, according to Lachke, assistant professor of biological sciences.
Fight for Sight, formed in 1946, has a long history for supporting eye research. Since 1955, the organization has awarded summer student fellowships, post-doctoral fellowships and grant-in-aid awards to encourage young investigators into ophthalmic research. 
Siddam joins an exclusive group of over 3,000 Fight for Sight alumni going back 68 years, several of whom have gone on to become outstanding leaders in vision research. 
Fight for Sight summer student fellowship awards are extremely competitive and applications are considered from all across the United States, Lachke said.
To be considered for this prestigious award, Siddam submitted a research grant proposal that was reviewed by a scientific review committee of nationally recognized experts in the field, and was selected among the top 25 students nationwide to win a the fellowship. 
In past, Fight for Sight has supported Lachke's research laboratory at UD, which currently is funded by the National Institutes of Health, The Pew Charitable Trust's Scholars Program in Biomedical Sciences, and the Knights Templar Eye Foundation.