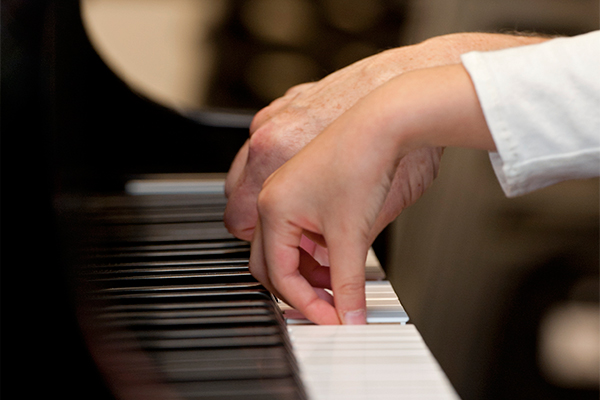 UDCMS programs
Community Music School schedules variety of programs for 2014-15
12:26 p.m., Aug. 20, 2014--The University of Delaware's Community Music School (UDCMS), the outreach program of the Department of Music that has offered a wide variety of music instruction options to people of all ages for more than 20 years, has a number of programs scheduled in the new academic year.
The school will offer private study instruction for children, teens and adults on more than 20 instruments including Erhu, the Chinese violin.
From graduates, faculty
As it neared time for the processional to open the University of Delaware Commencement ceremonies, graduating students and faculty members shared their feelings about what the event means to them.
Doctoral hooding
It was a day of triumph, cheers and collective relief as more than 160 students from 21 nations participated in the University of Delaware's Doctoral Hooding Convocation held Friday morning on The Green.
Music For Young Minds, an early childhood music program, provides music instruction for children from birth through age 6. 
Group classes include two children's choirs for students grades 1-8; Suzuki violin, guitar, and piano for students ages 4-12 (includes private and group lessons); percussion ensemble for students grades 6-9; and also beginner group piano classes for children grades 3-6 and adults.
UDCMS has evolved over the years to include classes and opportunities based on requests by the community. 
Instruction at UDCMS is affordable, and the school offers several different kinds of discounts. There are opportunities for several recitals during the year as well as performance opportunities with collegiate musical groups and at various off-campus venues. 
The UDCMS is accepting registrations for the fall semester. For information, see the UDCMS website or call 302-831-1548.