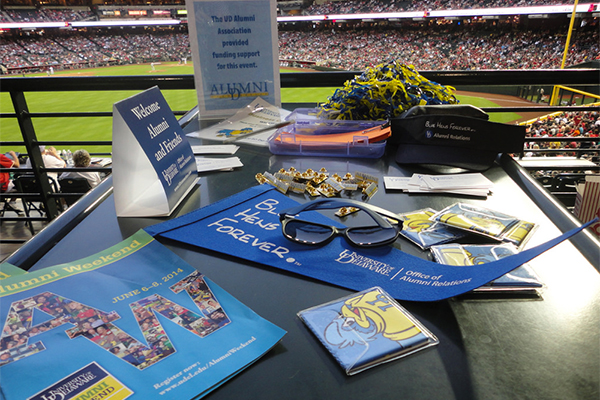 Alumni activities
Baseball, football, tailgating demonstration highlight alumni events
8:54 a.m., Aug. 8, 2014--Sports are about to reach full swing and University of Delaware alumni are invited to a range of events that include the summer baseball series, Blue Hens football and a demonstration about tailgate foods with a unique twist.
Events in conjunction with professional baseball games are scheduled from Baltimore to Denver to San Diego, and UD football will kick off with tailgating prior to the season-opening game against the University of Pittsburgh.
'Resilience Engineering'
The University of Delaware's Nii Attoh-Okine recently published a new book with Cambridge University Press, "Resilience Engineering: Models and Analysis."
Reviresco June run
UD ROTC cadets will run from New York City to Miami this month to raise awareness about veterans' affairs.
To prepare for tailgating, alumni are invited to a special event at Delaware Stadium that will feature a pairing of craft beers and popular tailgate foods.
Information on these and other activities follows:
Thursday, Aug. 14, 5:30 p.m.: San Diego happy hour. UD staff and southern California Blue Hens will gather at George's at the Cove in La Jolla to discuss what is happening on campus and ideas for San Diego area alumni activities.
Friday, Aug. 15, 11:30 a.m.: Lunch with UD staff and San Diego Blue Hens. Southern California alumni are invited to lunch at Searsucker San Diego to discuss what is happening on campus and ideas for San Diego area alumni activities.
Saturday, Aug. 16, 9 a.m.: Breakfast with San Diego Blue Hens. A weekend of southern California activities continues at the Richard Walker Pancake House in La Jolla.
Saturday, Aug. 16, 11 a.m.: Philadelphia new student send-off. The Philadelphia Alumni Club will hold a send-off for UD's newest Blue Hens at Bourbon Blue. Alumni will exchange stories about the University and share advice.
Saturday, Aug. 16, noon: San Diego Alumni Club at the Del Mar Races. The San Diego Alumni Club will sponsor a day at the Del Mar Thoroughbred Club.
Sunday, Aug. 17, 12:40 p.m.: Alumni Baseball Series/Denver. Denver alumni will gather at Coors Field for a summer baseball series game between the Colorado Rockies and the Cincinnati Reds. There will be a pre-game buffet.
Friday, Aug. 22, 7 p.m.: Alumni Baseball Series/Salisbury. Kent and Sussex alumni will visit Arthur W. Perdue Stadium in Salisbury, Maryland, for a game between the Delmarva Shorebirds and the Asheville Tourists.
Monday, Aug. 25, 5:45 p.m.: NYC Alumni Union Square Greenmarket Rescue with City Harvest. UD alumni will take part in a community service event with City Harvest.
Thursday, Aug. 28, 6 p.m.: Delaware Stadium tailgate foods, craft beer pairing. In a twist on the annual tailgate demonstration, alumni will gather at the Delaware Stadium barbecue pit for an event featuring tailgate foods and craft beer pairing. The event is open to alumni and friends 21 and older.
Saturday, Aug. 30, 10 a.m.: Football tailgate at Pitt. UD's Pittsburgh Alumni Club will host a tailgate at the Carnegie Science Center lawn, next to Heinz Field, where the Blue Hens football team will open its 2014 campaign against Pitt.
Thursday, Sept. 4, 6 p.m.: Philadelphia communications networking. Alumni in public relations, advertising, marketing, graphic design, social media and other communications-related fields are invited to a networking event at the Manayunk Brewing Co.
Saturday, Sept. 13, 11:30 a.m.: Alumni Baseball Series/Baltimore. Alumni will get together for a pre-game reception at the B&O Warehouse at Camden Yards, then enjoy an American League contest between the Baltimore Orioles and the New York Yankees.
Wednesday, Sept. 17, 7:10 p.m.: Alumni Baseball Series/San Diego. Southern California alumni will meet at Basic Pizza, then take seats in Petco Park to watch the San Diego Padres battle the Philadelphia Phillies.
Tuesday, Sept. 23, 11 a.m.: UD Fall Career Fair. The Fall Career Fair, to be held at the Bob Carpenter Center, provides an informative and diverse forum for employers, UD students and alumni of all majors and degree levels to interact.
Saturday, Oct. 18, 6 p.m. Boston post-regatta happy hour. The Boston Alumni Club will host a happy hour following the first day of racing at the 50th Head of the Charles Regatta at Tavern in the Square in Cambridge, Massachusetts.