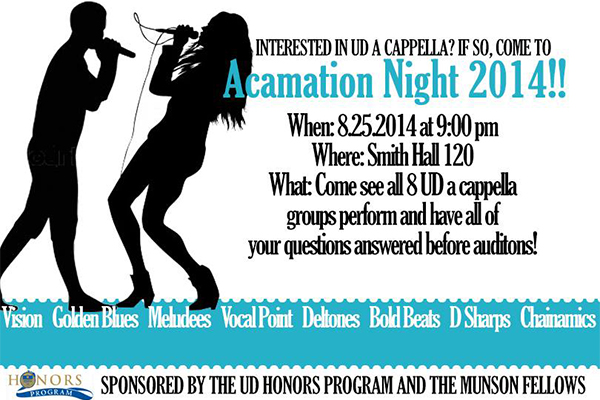 Aug. 25: Acamation Night
UD a cappella groups to perform, answer questions at Acamation Night 2014
7:58 a.m., Aug. 12, 2014--The eight a cappella groups at the University of Delaware will perform and answer pre-audition questions during Acamation Night 2014 to be held at 9 p.m., Monday, Aug. 25, in 120 Smith Hall.
The second annual event, sponsored by the UD Honors Program and the Munson Fellows, will feature Vision, the Golden Blues, the Meludees, Vocal Point, the Deltones, the Bold Beats, the D Sharps and the ChaiNamics.
June 5: Blue Hen 5K
University of Delaware graduates planning to attend Alumni Weekend are encouraged to register for the annual Blue Hen 5K walk and run, which will be held Sunday morning, June 5.
June 6-9: Food and culture series
The 20th annual June Lecture Series at the Osher Lifelong Learning Institute at UD in Wilmington will be held June 6-9. Titled 'June a la Carte,' this year's program focuses on great political documents, feminism, world politics and a Newark cuisine sampler.
Each group will perform a song and after the groups have performed, there will be a question and answer session for students who have questions in advance of auditions.
Acamation Night was conceived by senior Andrew Millin, an Honors Program student majoring in music and mathematics education.
"Serving as a Senior Fellow in the Honors Program, one of my requirements was to plan one large scale event," Millin said. "With most a cappella groups starting auditions on the first day of classes, interested students, especially freshmen, have barely any time to prepare a song to sing. Due to the time crunch and the vast offering of a cappella groups to choose from on campus, and with a budget from the Honors Program to plan one large scale event, I came up with the idea of Acamation Night to give interested students the opportunity to hear the a cappella groups perform, ask questions to relieve audition anxiety, and to socialize with a cappella members on a personal level."
The name Acamation, he said, is a combination of the words "a cappella" and "information."
Representing Vision, Millin is planning the event with Emily Pollock of the Deltones and Sarah Fulton of the Honors Program's Munson Fellows, who also have Senior Fellow requirements.
"Without the Honors Program, and encouragement from our a cappella community to have Acamation Night once again due to the first event's success last year, this event would not be possible, so a special shout out goes out to them," Millin said.