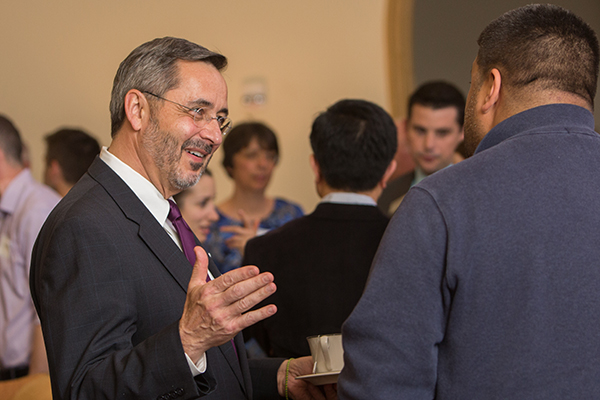 Summit of Americas
Provost Grasso participates in historic meeting of heads of state, educational leaders
3:07 p.m., April 17, 2015--Last week, the University of Delaware had a front seat at history, as heads of state and government officials from the Western Hemisphere gathered at the seventh Summit of the Americas, held this year in Panama City, Panama. Themed "Prosperity with Equity: The Challenge of Cooperation in the Americas," this year's summit marked the first time heads of the United States and Cuba met in a half-century.
Provost Domenico Grasso was on hand to attend a special meeting of university leaders at the historic summit. He joined university presidents and provosts from the United States, as well as countries throughout Latin America and the Western Hemisphere, to discuss the landscape of higher education. 
Fulbright awards
Three University of Delaware students and an alumna have received word this spring that they will travel abroad as part of the newest class of Fulbright Student Program award winners.
Peace Corps plans
Two University of Delaware students, John McCarron and Bridgette Spritz, have been selected as Peace Corps volunteers and will serve in Ghana and Rwanda.
"It was exciting to take part in such an important international event," Grasso said. "If Delaware is to be a bold and daring leader of the future, we must also be at the table when decisions are being made — not just about the direction of educational policy but the global economy, sustainability and other crucial issues we face in the world." 
Juan Carlos Varela, president of the Republic of Panama and alumnus of an American university that organized the event, conceived the Summit of the Americas' first Forum of University Rectors (presidents and provosts), which convened about 400 university leaders and other high-ranking officials from 35 countries, including U.S. Secretary of State John Kerry. 
Grasso also was one of a select group of university administrators invited to attend speeches by a number of Latin American heads of state and where President Obama delivered much-anticipated remarks.
The higher education event targeted specific focus areas, including:  
Academic mobility
Technology and innovation 
Sustainable economic development. 
About the Summit of the Americas
The Summit of the Americas brings together heads of state and government officials from the Western Hemisphere to discuss policies, values, action plans and challenges for the future. This year, the buzz around the Summit reached historic heights because of the invitation extended to Cuba and the recent shift toward normalizing relations between the United States and the small Caribbean island. 
Topics covered at this year's Summit of the Americas were education, health, energy, environment, migration, security, citizen participation and democratic governance. The Summit occurs every three years and offers the opportunity for countries to jointly define a hemispheric agenda at the highest level. 
Article by Jawanza Ali Keita
Photo by Ambre Alexander Payne