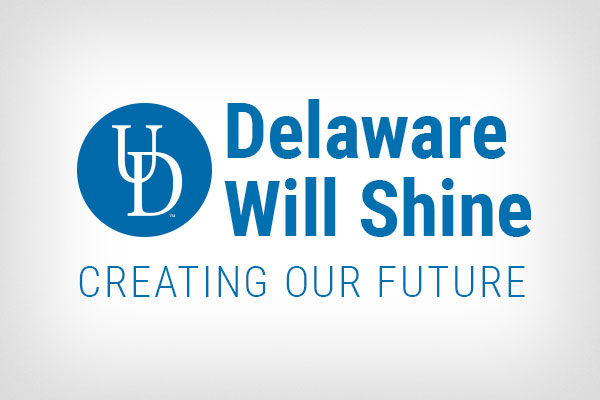 Draft strategic plan available for review
UD community encouraged to review, comment on draft strategic plan by April 20
3:13 p.m., April 8, 2015--The University of Delaware's draft strategic plan, Delaware Will Shine, is now available for the University community to review. The draft document may be downloaded as a PDF from this web page.
The open comment period extends from April 8 through April 20. Submit comments to spi@udel.edu.
From graduates, faculty
As it neared time for the processional to open the University of Delaware Commencement ceremonies, graduating students and faculty members shared their feelings about what the event means to them.
Doctoral hooding
It was a day of triumph, cheers and collective relief as more than 160 students from 21 nations participated in the University of Delaware's Doctoral Hooding Convocation held Friday morning on The Green.
Two open sessions are scheduled to provide a brief overview and to solicit comments and suggestions on the plan. These sessions will be held April 14, 10–11 a.m., and April 16, 3:30–4:30 p.m., in the Trabant University Center Theatre.
"This inspirational plan is the collective effort of the University community," said UD Provost Domenico Grasso. "Delaware Will Shine underscores the University of Delaware's relentless commitment to excellence and sets an exciting direction for our future work as a pre-eminent learner-centered research university. On behalf of our executive committee and working groups, representing 100 faculty members, staff members and students across campus, we thank the many people who contributed ideas and look forward to your comments."
The draft strategic plan is the culmination of more than 100 gatherings held during the past year, including constituent meetings, town halls, community forums and thought leader talks, as well as dozens of blog posts on the Delaware Will Shine website and emails.  
The plan highlights UD's goal to be "a pre-eminent learner-centered research university" with a strong emphasis on learning, scholarship and public engagement. 
It introduces seven grand challenges facing society that the University is uniquely equipped to address, ranging from educating the global citizen to ensuring safety and security.
Five strategic initiatives, with priority recommendations and measures of progress, are defined to advance the University's mission, including fostering an open and accepting campus culture, developing innovative educational programs, strengthening UD's world-class research and scholarship, promoting a safe and healthy campus, and enhancing UD's collaborations with community partners. 
Unlike past University strategic plans, Delaware Will Shine is designed to be a "living document" that launches strategic planning as an ongoing activity, giving the University greater flexibility to adjust its trajectory to pursue emerging opportunities. The plan includes a section on implementation with a description of future action teams and steps to keep the plan on track and meeting its goals. 
"I am impressed by the spirit and dedication of our University community to develop this plan. We will all continue to work together to achieve further greatness and consequentiality at the University of Delaware," Grasso said.