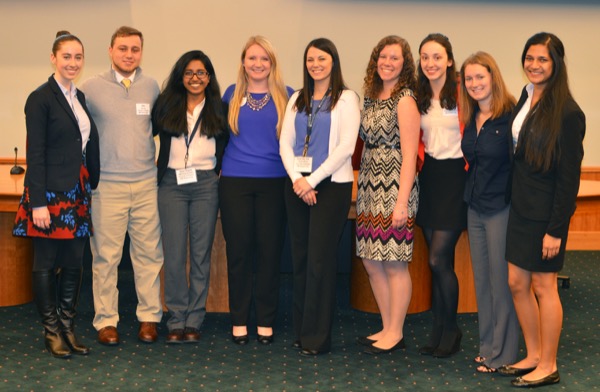 Biomedical Engineering Research Day
Biomedical engineering students share research at Johns Hopkins University
8:54 a.m., April 3, 2015--A contingent of students and faculty from the University of Delaware chapter of the Biomedical Engineering Society (BMES) visited the Johns Hopkins University (JHU) campus in Baltimore on Friday, March 27, to participate in the third annual BMES Undergraduate Research Day.
The UD students participated in the event with undergraduates from JHU and the University of Maryland's Fischell Department of Bioengineering.
Chronic wounds
UD's Millicent Sullivan and Kristi Kiick have received a $1.4 million grant from the National Institutes of Health for research that could provide a new approach to the treatment of chronic wounds.
Prof. Heck's legacy
The American Chemical Society is highlighting the legacy of the late Nobel laureate Richard Heck, the Willis F. Harrington Professor Emeritus of Chemistry at the University of Delaware with a digital tribute on its publications website.
Designed to showcase the quality of student research projects conducted during the academic year, Research Day also aims to inspire classmates in the biomedical engineering programs to pursue their own research. 
"Joining a professional society is a great way for undergraduate students to begin building the networks and collaborations that are essential to research," said Emily Day, assistant professor in UD's biomedical engineering program and faculty adviser for the BMES student chapter. 
She continued, "This was a fantastic opportunity for our students to present their work alongside students from other biomedical engineering programs in the region."
A number of UD students entered abstracts and posters into the competition and Day was among those judging the posters and presentations. Attendees participated in the awards process as well, selecting UD biomedical engineering junior Bretta Fylestra for the Best Poster Award.
Fylestra's poster, titled "A Model to Customize AFO Footplates to Preserve Shank Progression with Limited Ankle Dorsiflexion," summarized her research with Steven Stanhope, professor in UD's Department of Kinesiology and Applied Physiology. Her research involves creating a quantitative mathematical model for footplate rollover shapes used in ankle-foot orthoses (AFOs), and she also works with creating customized 3D-printed AFOs to test the mathematical model.