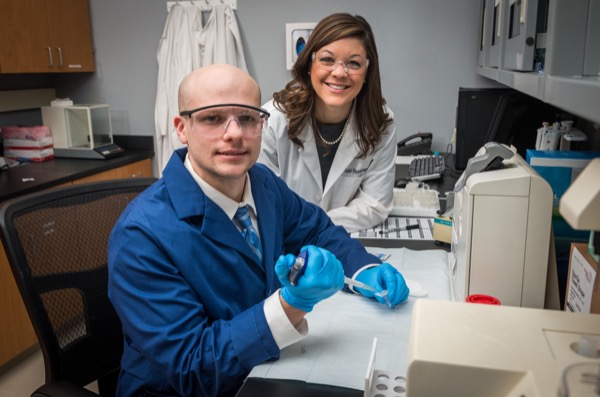 Doctoral research grants
Doctoral students win research grants from American College of Sports Medicine
1:09 p.m., April 16, 2015--Two graduate students in the applied physiology program in the Department of Kinesiology and Applied Physiology at the University of Delaware, Meghan Ramick and John Guers, have won $5,000 research grants from the American College of Sports Medicine Foundation to support their doctoral studies.
Ramick is investigating the effect of dietary nitrates on physical performance and vascular function in chronic kidney disease, and Guers is studying the effect of exercise on sodium-induced blood vessel dysfunction.
Chronic wounds
UD's Millicent Sullivan and Kristi Kiick have received a $1.4 million grant from the National Institutes of Health for research that could provide a new approach to the treatment of chronic wounds.
Prof. Heck's legacy
The American Chemical Society is highlighting the legacy of the late Nobel laureate Richard Heck, the Willis F. Harrington Professor Emeritus of Chemistry at the University of Delaware with a digital tribute on its publications website.
Fighting kidney disease with dietary nitrate
More than 25 million people in the United States are affected by chronic kidney disease, which is associated with decreased physical activity and an increased risk of cardiovascular disease. Blood vessel dysfunction is also common in patients with chronic kidney disease and has been shown to predict future cardiovascular events.  
"Blood vessel dysfunction persists in this population despite current pharmaceutical therapies such as ACE (angiotensin-converting-enzyme) inhibitors and statins," says Ramick. "However, researchers have recently found that dietary nitrate supplementation has beneficial effects on blood vessel health as well as exercise performance in both healthy and diseased populations."
Advised by Dave Edwards, associate professor of kinesiology and applied physiology, Ramick is investigating the effects of acute ingestion of dietary nitrate from concentrated beetroot juice on measures of physical performance and exercise capacity as well as blood vessel function in patients with chronic kidney disease. 
"If beetroot juice is effective, it may be useful in patients with chronic kidney disease," Ramick says. "Long-term studies would then be required to determine whether any improvements in physical performance or blood vessel function are associated with increased physical activity or decreased risk of cardiovascular disease in these patients."
Improving vascular function with exercise
Research done by UD faculty and clinical collaborators has shown that high amounts of sodium can have negative effects on blood vessels even in people who don't develop high blood pressure. These effects include the loss of the important vasodilator nitric oxide as well as structural changes in the blood vessels and increased oxidative stress. 
"Collectively, these harmful effects can increase the risk for developing cardiovascular disease, which is the leading cause of death worldwide," says Guers, who is advised by Shannon Lennon-Edwards, associate professor in the Department of Behavioral Health and Nutrition and one of the authors of the sodium study. 
"Exercise has been used as an effective strategy against a number of cardiovascular diseases. Our hypothesis is that vascular function will be preserved with exercise even in the presence of a high-sodium diet. We will also test the hypothesis that exercise will reduce oxidative stress and preserve nitric oxide."  
About the Grants
ACSM's Foundation Research Grant Program started in 1989. In 2014, the Foundation awarded approximately $140,000 among 24 research students. The grants support doctoral students up to $5,000 for a one-year period. 
The awards are to be used for experimental subjects, supplies, and small equipment needs. Doctoral students enrolled in full-time programs are eligible to apply.
Article by Diane Kukich
Photo by Kathy F. Atkinson