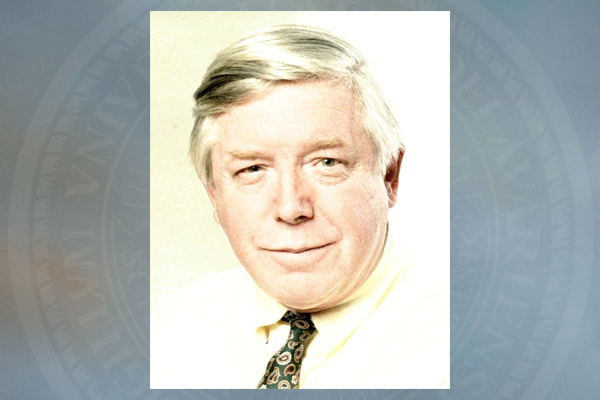 In Memoriam
Memorial service for John H. Taylor Jr. set April 19 at Cab Calloway School
3 p.m., April 8, 2015--A memorial service for John H. Taylor Jr., respected journalist, community leader and University of Delaware alumnus, will be held at 10:30 a.m., Sunday April 19, at Cab Calloway School of the Arts, 100 North Dupont Rd., Wilmington. 
Mr. Taylor died peacefully at home on April 4, surrounded by family, after being diagnosed with cancer several years ago. He was 71.
"John not only was a proud alumnus of the UD's Master of Arts in Liberal Studies program but an extraordinary supporter of the University and an active partner with the University for decades," said Dan Rich, University Professor of Public Policy. "John was part of the leadership team for the Knowledge-based Partnership Conference series and the How Delaware Compares projects that were co-sponsored by UD and the Delaware Public Policy Institute, where he served as executive director. He also served on the advisory board for the School of Public Policy and Administration at the University.
"John's passing is a great loss for all Delawareans, including the many thousands who never knew him but whose lives are richer because of him," Rich said. "He was a man of courage -- both personal and public -- and a champion for fairness and honesty. John was by nature and profession an educator, but his classroom was the entire state — and far beyond. At the News-Journal and as executive director of the Delaware Public Policy Institute, he worked to improve public understanding of public policy issues and to form collaborations across all sectors to pursue practical and lasting improvements. 
"John Taylor influenced changes in public education, nonprofit services, economic development, land-use practices, fiscal policy and government performance. Even in the weeks before his death, he was sharing proposals for improving policies and programs. In very practical and lasting ways, John Taylor has made Delaware a better place," Rich said.
Ralph Begleiter, director of UD's Center for Political Communication, said, "John was a powerful voice of integrity in Delaware and an influential advocate of solid journalism in the state. He welcomed University of Delaware students to the News Journal newsroom as journalism interns, offering them the sage experience of decades holding the state's leaders accountable. In his earlier years, John was a significant -- sometimes controversial -- voice for integration in Delaware, and throughout his life was an unflinching advocate for better public schools in the state.
"I was privileged to meet John when I arrived at UD in 1999 as a career journalist and always enjoyed his sharp wit as well as his insightful view of Delaware politics and media," Begleiter said. "I'll miss him. John's family is justifiably proud of his legacy; I wish them all well."
John H. Taylor Jr.
Born in Wilmington, Delaware, Mr. Taylor graduated from Salesianum School in 1961.  He earned a bachelor's degree in philosophy from the University of Toronto (St. Michael's College) in 1965, and a master's in liberal studies from the University of Delaware in 1995.
He met his wife, Maria Greeney, at the University of Toronto. After graduating, they both taught English and history at St. Mary's Secondary School in Tilbury, England for one year.  They returned to the U.S. to marry in June 1966 and settled in Wilmington, when he was hired as a reporter by the Wilmington News Journal. He left the newspaper in 1968 to serve as assistant to the superintendent of the Wilmington Public Schools until 1971, when he returned to The News Journal, where he remained for 37 years.
Mr. Taylor began as an obituary writer and reporter, and later became the News Journal's metropolitan editor, overseeing all newsroom operations for several years.  He then served as deputy editor for four years, before becoming the editorial page editor for the next 22 years. His weekly column, called "Close to Home," ran for many years until his retirement from the paper in 2005. 
The next chapter of Mr. Taylor's career brought him to the Delaware Public Policy Institute, a nonpartisan, nonprofit organization established to conduct research and encourage study and discussions of policies, programs and issues affecting the state of Delaware. This gave him the opportunity to directly shape policy on issues he had previously championed as a journalist.  He served for nine years as senior vice president of the Delaware State Chamber of Commerce and executive director of the Delaware Public Policy Institute. 
During his career, Mr. Taylor was recognized with several local and national awards for his writing and community service, including the Maryland Delaware Press Association Best Editorial Award (1984, 1989), the Delaware State Education Association Helen Wise Friend of Education Award (1996), the Associated Press Mark Twain Award (1993, 2002, 2003 and 2004), the United Way of Delaware Chairman's Award (1999), the Common Cause of Delaware Open Government Award (2010), Delaware Futures Haskell-Wyeth Award (2010) and Delaware State Chamber of Commerce Dick DiSabatino Award (2013). His most recent and cherished award was the Order of the First State, the highest honor a Delaware governor can bestow, which was presented to him at home on March 31, 2015, by Gov. Jack Markell.
He was an active and devoted member and leader of the National Conference of Editorial Writers (NCEW).  He served as president of its Board of Directors, editor of its quarterly journal, The Masthead, and president of the NCEW Foundation Board of Trustees. He cherished the annual conferences and the friends he and his wife met through this organization.  
During his time at The News Journal, Mr. Taylor appeared regularly on WHYY-TV's news program, Delaware Tonight/Political Perspectives.  More recently, he interviewed several community and political leaders for the Content Delaware website. He taught journalism courses at the University of Delaware and Wilmington College and participated in seminars and workshops at New York University and Columbia University. He was a founding member, and former chair, of the Delaware Bar-Bench-Media Conference and a founding member of Vision 2015.
Mr. Taylor served on the board of directors of several community organizations, including Delaware Community Foundation, Christiana Care Board of Trustees, Nemours Health and Prevention Services Advisory Committee, Stroud Water Research Center, Ministry of Caring, Delaware Alliance for Non Profit Advancement, Serviam Media and Kids Count Delaware.
He also served on the board of the William P. Frank Foundation of Delaware, which is a major supporter of UD's Center for Political Communication's annual "National Agenda" program, as well as a graduate research fellowship, the William P. Frank Foundation Fellowship in Political Communication.  
He was an avid reader, cook, music and art lover, traveler, movie buff and theater-goer. He seized any opportunity to cook. He would host dinner parties, loved sharing food and drink with friends at their homes, enjoyed his Quill & Grill dinners, and accepted just about every invitation to social gatherings. He enjoyed meeting people from all walks of life – he always listened to their stories and shared them with anyone who would listen.
He expressed his opinion freely and interjected his knowledge in any conversation, but was also a generous, mentor, teacher and guide to colleagues, friends and family. Most of all he loved his family. He traveled all over the country to attend graduations, weddings, school presentations and sports events, but nothing pleased "Pop" more than having all of his kids and grandkids at his dining room table to celebrate just about anything.
Mr. Taylor is survived by his wife of 48 years, Maria; his four children, Moira Taylor (Stephen Lippman), Jennifer Taylor Berry (Hal) of Concord, Massachusetts, John H. Taylor III (Denise) of Wilmington, Delaware, and Kathryn Taylor Allen (Michael) of Golden, Colorado; and his six grandchildren, Alex and Miles Berry, Jack and Lucy Taylor, and Morgan and Parker Allen.
In lieu of flowers, the family suggests memorial contributions to the Taylor Family Fund at the Delaware Community Foundation or to a charitable organization that represents Mr. Taylor's values.
Condolences may be left online at the Doherty Funeral Homes website.