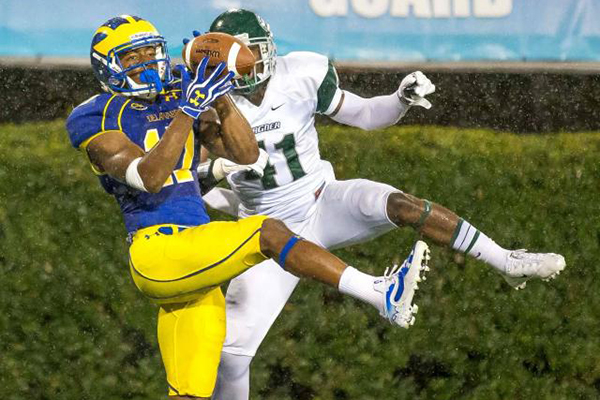 CAA football clash
Blue Hens to open Colonial season with game against James Madison
8:07 a.m., Sept. 25, 2013--The 3-1 University of Delaware football team will open its Colonial Athletic Association season with a home game against rival James Madison University at 7 p.m., Saturday, Sept. 28, at Delaware Stadium.
The Fightin' Blue Hens are coming off a rain swept 49-9 victory over Wagner while James Madison, also 3-1 and ranked No. 16 in the NCAA Division I Football Championship Subdivision, defeated the University of North Carolina Charlotte 34-7.
Rower honored
University of Delaware junior Claire Brown has been named second team Collegiate Rowing Coaches Association All-Region.
Unsung Hero
The One Love Foundation has announced that University of Delaware men's lacrosse standout Elijah Conte has been selected as a winner of the 2016 YRL Unsung Hero Award.
UD's lone loss was to the U.S. Naval Academy, while James Madison fell to Akron.
Quarterback Trent Hurley leads the Hens, with 70 completions in 97 attempts for 944 yards and 10 touchdowns. His favorite receiver is Michael Johnson, with 19 catches for 401 yards and four touchdowns. Running back Andrew Pierce has 59 attempts for 302 yards and two touchdowns.
James Madison is quarterbacked by Michael Birdsong, who has completed 69 of 111 passes for 771 yards and six touchdowns. He also has rushed for 73 yards, second on the team behind Dae'Quan Scott, who has 593 yards and five touchdowns.
For more about the game, see UD's Gameday Central site.
For ticket information, see the BlueHens.com web page.
Vote for Ryan Cobb
Fans are encouraged to cast votes online for UD junior tight end Ryan Cobb, who has been named a finalist for the Allstate American Football Coaches Association Good Works Team.
Photo by Mark Campbell