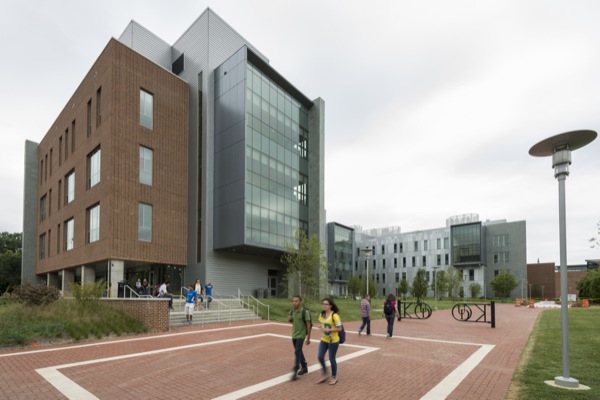 Oct. 3: STEM symposium
ISE Lab inaugural symposium to showcase 21st century education
9:10 a.m., Sept. 20, 2013--A symposium, "21st Century STEM Education," will be held Thursday, Oct. 3, in the University of Delaware's new Interdisciplinary Science and Engineering Laboratory (ISE Lab), from 12:30-7 p.m.
The event is free and open to the public, but anyone planning to attend the closing reception, from 6-7 p.m., is asked to register by email at isll-info@udel.edu.
From graduates, faculty
As it neared time for the processional to open the University of Delaware Commencement ceremonies, graduating students and faculty members shared their feelings about what the event means to them.
Doctoral hooding
It was a day of triumph, cheers and collective relief as more than 160 students from 21 nations participated in the University of Delaware's Doctoral Hooding Convocation held Friday morning on The Green.
The symposium will feature talks by nationally prominent speakers, panel discussions and the opportunity to visit a variety of instructional spaces and labs in the building, where demonstrations of innovative teaching and learning will be given. The stations will showcase undergraduate work in science and engineering at UD, as well as technologies currently in use in ISE Lab's cutting-edge facilities.
George H. Watson, dean of the College of Arts and Sciences, will give the opening talk, "Why the 'I' in ISE Lab?" A physics professor, Watson founded the University's Institute for Transforming Undergraduate Education in 1997 and is a pioneering advocate for problem-based learning — an instructional method that emphasizes developing critical thinking skills by solving real-world problems and that ISE Lab is designed to promote.
Other speakers at the symposium, who will give their presentations and answer questions in a TED-talk format, will address issues in STEM (science, technology, engineering and mathematics) education. They include the following:
Susan Singer, director of the National Science Foundation's Division of Undergraduate Education, will speak at 1 p.m. on "Integration and Convergence." The division sets undergraduate science education goals that constitute a comprehensive approach to strengthening science, technology and math education at two-year and four-year colleges and universities.
David Asai, senior director of undergraduate and graduate science education programs at the Howard Hughes Medical Institute, will speak after Singer on "Persistence in Science by All Students." At the institute, he oversees an annual portfolio of more than $50 million in initiatives that are designed to reinvigorate life science education at research universities and liberal arts colleges and to engage leading scientists in teaching.
Jeanne Narum, founding director of Project Kaleidoscope and founding principal of Learning Spaces Collaboratory, will speak in the symposium's second session, beginning at 4 p.m., on "Mental Images of 21st Century Learners, Learning and Learning Spaces." The project's goal is to encourage the design and development of an intellectual, physical and organizational infrastructure that supports strong learning in STEM fields. 
Louis Gross, director of the National Institute for Mathematical and Biological Synthesis, will speak after Narum on "Insights and Examples on Quantitative Education for Life Science Undergraduates." A researcher in computational and mathematical ecology, he also was involved in the National Academy of Sciences Bio2010 report, "Transforming Undergraduate Education for Future Research Biologists."
Jay Labov, senior adviser for education and communications for the National Research Council (NRC), will follow Gross' talk and will speak on the topic "Evolution in Undergraduate Education?" Labov has been the study director for numerous NRC reports on improving teaching in STEM fields.
From about 2-4 p.m., between the two lecture sessions, those attending the symposium will be able to visit stations set up in ISE Lab. They will have the opportunity to see a demonstration of "juggling physics," to use 3D projectors and specialized screens to view anatomical models from MRI images, to watch students demonstrate how to build medical prostheses and to learn about the GoBabyGo project that helps young children with limited mobility explore the world and socialize with their peers.
About ISE Lab
ISE Lab, which opened to students this semester, is a hub of teaching and research on campus. The 194,000-square-foot building, at Academy Street and Lovett Avenue, brings together students and faculty from various disciplines to teach, learn and conduct research in a collaborative environment. Research provides content for the curriculum and students learn through the exploration of real-world problems.
A grand opening and dedication ceremony for the building will be held Oct. 17.
Article by Ann Manser
Photo by Evan Krape