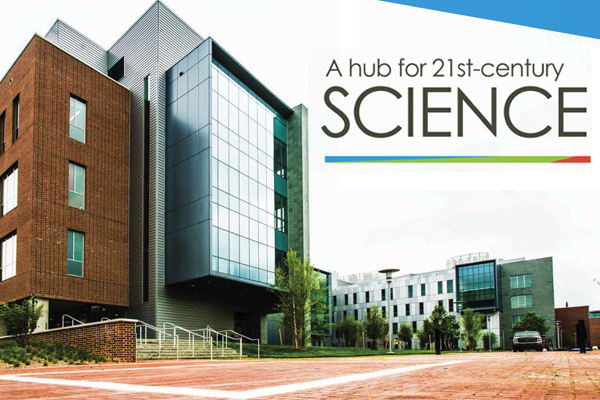 21st-century science hub
Research magazine highlights Interdisciplinary Science and Engineering Lab
10:06 a.m., Sept. 4, 2013--The latest issue of the University of Delaware's award-winning Research magazine takes readers on a tour of the new Interdisciplinary Science and Engineering Laboratory (to be celebrated in a formal ceremony this fall), to the mountains of Tajikistan in search of the elusive snow leopard.
The first new science laboratory constructed on the UD campus in more than two decades, ISE Lab marks a new direction for academic facilities. From its classes and offices designed to foster collaboration, to its living "green" rooftop, the 194,000-square-foot facility is a novel hub for the science of the future. 
Chronic wounds
UD's Millicent Sullivan and Kristi Kiick have received a $1.4 million grant from the National Institutes of Health for research that could provide a new approach to the treatment of chronic wounds.
Prof. Heck's legacy
The American Chemical Society is highlighting the legacy of the late Nobel laureate Richard Heck, the Willis F. Harrington Professor Emeritus of Chemistry at the University of Delaware with a digital tribute on its publications website.
As UD President Patrick Harker notes, ISE Lab is "where students will see every day the enormous power of putting science to work."
In a special 16-page section, the magazine visits ISE Lab researchers working on energy and environmental challenges such as the optimal placement of offshore wind farms and the development of a super-sensitive "sensor on a chip" for detecting pollutants in water, soil and air. For a closer look, view the video in the online edition along with other web extras.
University experts discuss how UD's nationally recognized problem-based learning approach, coupled with facilities such as the DuPont Science Learning Laboratories in ISE Lab, will help students gain critical thinking skills for the 21st-century workforce. 
Additionally, the Bob and Jane Gore Research Laboratories in ISE Lab are profiled. Available for use by academic, industry and government researchers, these labs will provide the latest instruments for fabricating nanoscale materials and for revealing the structure and chemistry of soil particles to quantum dots. 
The issue also includes articles on ongoing studies of Hurricane Sandy to UD's involvement in a new statewide neuroscience center and education reform in Kenya. In UD Authors, Jeanne Walker, professor of English, tells of the difficulties as well as the significant gifts that came along as she cared for her mother in the just-released memoir The Geography of Memory: A Pilgrimage Through Alzheimer's.
Quiz buffs, sharpen your wits — "Test Your Knowledge" focuses on the Battle of Gettysburg, and "The Curiosity Shop" presents mystery objects for identification.
UD Research is a partnership of the Research Office and the Office of Communications and Marketing. Read the edition online or request a printed copy. Subscriptions are free.