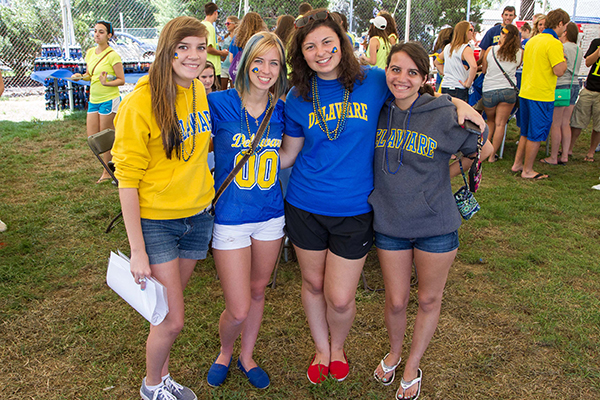 Sept. 21: New student tailgate
New Blue Hens invited to attend Class of 2017 Student Welcome Tailgate
11:32 a.m., Sept. 17, 2013--Students in the University of Delaware's Class of 2017 are invited to attend a tailgate designed specifically for new students on Saturday, Sept. 21, at Delaware Stadium.
The Class of 2017 Welcome Tailgate will take place from 3:30-5:30 p.m., preceding UD's football game against Wagner University.
'Resilience Engineering'
The University of Delaware's Nii Attoh-Okine recently published a new book with Cambridge University Press, "Resilience Engineering: Models and Analysis."
Reviresco June run
UD ROTC cadets will run from New York City to Miami this month to raise awareness about veterans' affairs.
The tailgate provides students with an opportunity to meet classmates and become a part of the University's tailgating tradition in a safe environment.
New students can enjoy music, free food, inflatables, prizes, games and more. 
Class of 2017 T-shirts will be available at check-in while supplies last, with attendants who registered before Wednesday, Sept. 11, given priority. Before the tailgate, students can register here and follow #UD2017 on social media for updates. 
Also, members of the class will be able to sign the class banner, which will be on display.
Special bus routes will be provided to transport students directly from dorms to the stadium. For specific transportation details, check the event web page as the date approaches. 
The tailgate is a collaboration sponsored by Student Wellness and Health Promotion, Athletics, University of Delaware Alumni Association, First Year Experience, and the Division of Student Life. 
Tailgate funding
Funding for this project has been provided by the state of Delaware's Department for Health and Social Services, Division of Substance Abuse and Mental Health, through a grant from the Substance Abuse and Mental Health Services Administration (SAMHSA).
Additional funding was provided by Athletics and the UD Alumni Association. 
Photo by Mark Campbell