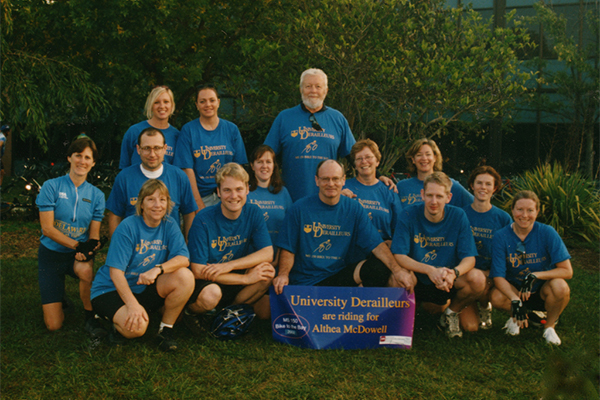 Riding for MS research
University Derailleurs to participate in MS Bike to the Bay ride
8:58 a.m., Sept. 17, 2013--The University Derailleurs, composed of employees, students, alumni and friends of the University of Delaware, will participate for the 21st year in the MS Bike to the Bay fundraiser for multiple sclerosis research on Sept. 21-22.
Participants can choose from various distances ranging from 17 to 100 miles per day, riding from Dover to Dewey Beach on Saturday and reversing the course on Sunday.
'Resilience Engineering'
The University of Delaware's Nii Attoh-Okine recently published a new book with Cambridge University Press, "Resilience Engineering: Models and Analysis."
Reviresco June run
UD ROTC cadets will run from New York City to Miami this month to raise awareness about veterans' affairs.
Over the past 20 years, more than 250 University Derailleurs team members have raised over $83,000, and this year's goal is an additional $5,000. Pledges and donations are welcome, and interested bike riders are invited to join the team.
The team will be riding in honor of Althea McDowell, former program coordinator of the Americans with Disabilities Act program at UD.
For more information, contact Jerry Hendricks via email at hendrick@udel.edu or visit the team's Bike MS website.