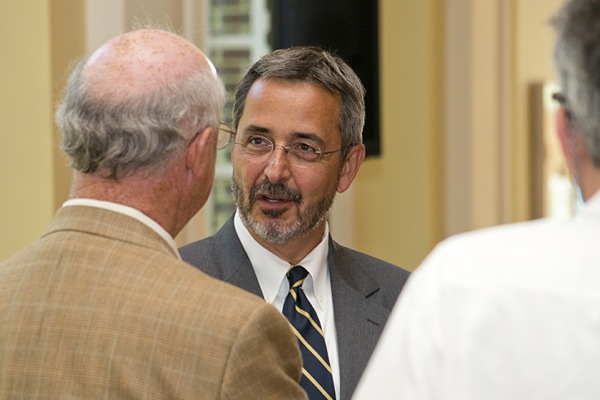 Grand challenges and great debates
A letter to the University of Delaware community
Sept. 5, 2013
Dear students, faculty and staff,
Welcome to the new academic year!
From graduates, faculty
As it neared time for the processional to open the University of Delaware Commencement ceremonies, graduating students and faculty members shared their feelings about what the event means to them.
Doctoral hooding
It was a day of triumph, cheers and collective relief as more than 160 students from 21 nations participated in the University of Delaware's Doctoral Hooding Convocation held Friday morning on The Green.
I am delighted and honored to be here as the new provost of this great University.
In my short tenure here, there's one question I'm frequently asked: What in the world is a provost? As the chief academic officer of the University, sitting between the deans and the president, the provost has a singular job—simply put, to ensure that our students get an educational experience second to none and to provide our faculty with the resources and support they require to be world-class teachers and scholars. Working together, along with our dedicated staff, we will help this wonderful University continue to be successful, consequential, and impactful across the globe. 
Because of the renown of our faculty and the quality of our students, we have a very real opportunity—some may say an obligation—to commit our efforts to the grand challenges and great debates that define our time. I find this prospect invigorating.  
To move forward, we must continue to embrace this University's commitment to a diverse campus that reflects the cultures, views, experiences, hopes and dreams of our society as a whole. Each of us—with our unique talents and perspectives—is an essential part of what makes this University so vital and vibrant.
I am so excited about where we are today, and I look forward to working with President Harker, the deans, the faculty and the entire academic community; together we will write the next chapter in UD's distinguished history.
Best wishes for an enjoyable and productive school year, and I hope to see you around campus.
Go Hens! 
Domenico Grasso
Provost