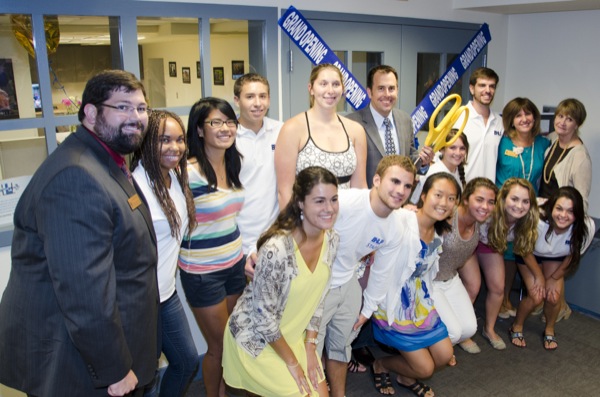 BHLP celebrates
Student Leadership Center opens in Trabant University Center
8:38 a.m., Sept. 17, 2013--The University of Delaware's Blue Hen Leadership Program (BHLP) celebrated the grand opening of its new home, the Student Leadership Center in 157A Trabant University Center, on Sept. 12.
The event featured keynote speaker Corey Ciocchetti, who encouraged students to decide who they are and what will define their legacy at the University and beyond. Ciocchetti's presentation, "Chasing Authentic Success," was followed by a ribbon-cutting ceremony and reception with University Student Centers staff.
From graduates, faculty
As it neared time for the processional to open the University of Delaware Commencement ceremonies, graduating students and faculty members shared their feelings about what the event means to them.
Doctoral hooding
It was a day of triumph, cheers and collective relief as more than 160 students from 21 nations participated in the University of Delaware's Doctoral Hooding Convocation held Friday morning on The Green.
The BHLP is the University's three-tiered student leadership certification program, coordinated through the Leadership Development Office of the University Student Centers.
For more information on the program and its new space, see the UDaily article.
Article by Casey Impagliazzo