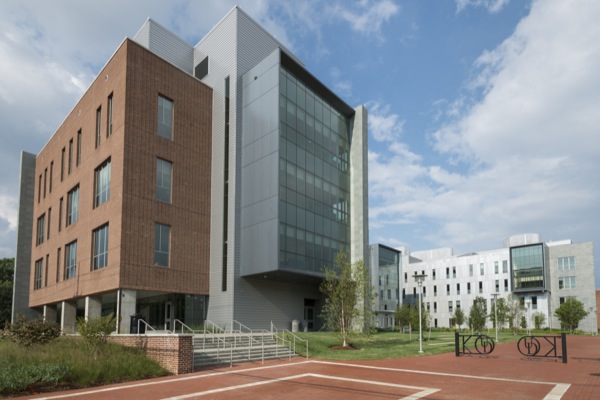 Oct. 17: ISE Lab celebration
Ribbon cutting, reception, tours, public talk mark ISE Lab dedication
1:34 p.m., Sept. 20, 2013--The campus community will celebrate the opening of the University of Delaware's Interdisciplinary Science and Engineering Laboratory on Thursday, Oct. 17.
The festivities include a ribbon cutting, reception, tours and the marquee event, a conversation with KR Sridhar, principal co-founder and chief executive officer of Bloom Energy.
From graduates, faculty
As it neared time for the processional to open the University of Delaware Commencement ceremonies, graduating students and faculty members shared their feelings about what the event means to them.
Doctoral hooding
It was a day of triumph, cheers and collective relief as more than 160 students from 21 nations participated in the University of Delaware's Doctoral Hooding Convocation held Friday morning on The Green.
All events are free and open to the public. RSVP online.
Schedule: 
• 2-3:15 p.m., Mitchell Hall
Special Feature: A Conversation with KR Sridhar, principal co-founder and chief executive officer, Bloom Energy.
Nancy Karibjanian, adjunct professor, Department of Communication, will moderate a conversation with energy pioneer Sridhar on the topic, "From Classroom to Consumer: Transforming Breakthrough Ideas Into Profitable Solutions."
• 3:30-4 p.m., ISE Lab Courtyard 
Ribbon Cutting and Dedication
UD President Patrick Harker, Provost Domenico Grasso and Delaware Gov. Jack Markell will dedicate the first laboratory building erected on campus in 20 years, recognizing and celebrating those whose vision and generosity made its construction possible.
• 4-5:30 p.m., ISE Lab
Reception and Tours of ISE Lab
Guests, faculty, staff and students are invited to explore ISE Lab. Students and faculty will demonstrate research and class projects throughout the building.
Photo by Evan Krape