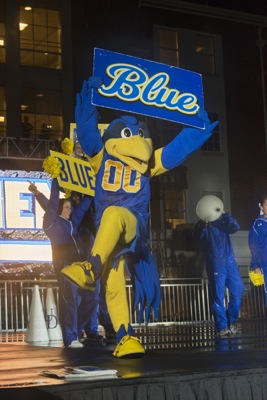 Talent Challenge
Students invited to submit videos for chance to perform at Homecoming Pep Rally
11:51 a.m., Sept. 17, 2013--University of Delaware students are invited to submit a video on Intsagram or Vine showcasing their talents. The student or students in the winning video will perform a five-minute spot at the second annual Homecoming Pep Rally. The deadline is Oct. 4.
The winner — to be chosen by the Student Homecoming Committee — will join the marching band, athletics teams and various other performance groups on stage during the Pep Rally on Friday, Oct. 11, at 4:30 p.m. on the Independence Turf on Laird Campus.
From graduates, faculty
As it neared time for the processional to open the University of Delaware Commencement ceremonies, graduating students and faculty members shared their feelings about what the event means to them.
Doctoral hooding
It was a day of triumph, cheers and collective relief as more than 160 students from 21 nations participated in the University of Delaware's Doctoral Hooding Convocation held Friday morning on The Green.
All UD students are eligible to enter the Homecoming 2013 Talent Challenge.
To enter, students should submit a video of their talent via Instagram or Vine with the hashtag #UDHCtalent by Friday, Oct. 4, at 5 p.m.
The Student Homecoming Committee will be judging the videos with the following criteria: 50 points for talent, 30 points for school spirit and 20 points for passion and enthusiasm.
Guests are encouraged to wear blue and gold at the Pep Rally, which is a free event open to the public and will be held rain or shine. Buses will be available for students living on East and West campuses. 
For all UD Homecoming events for alumni, students and staff, visit the UD Homecoming 2013 website and stay connected through Facebook.
Photo by Kathy F. Atkinson