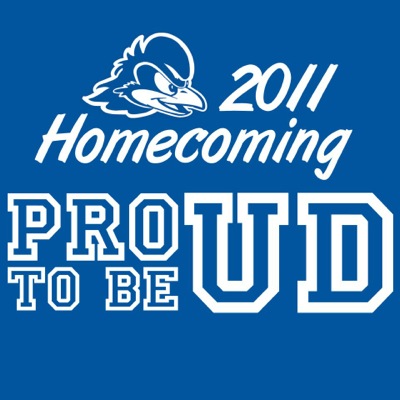 T-shirt design contest
UD Homecoming 2013 T-shirt design contest rules, deadlines announced
8:40 a.m., Sept. 6, 2013--University of Delaware Athletics and the Cockpit have announced the third annual Homecoming T-shirt design contest.
UD students are invited to submit their designs for the official 2013 Homecoming student T-shirt. The deadline to submit designs is noon, Tuesday, Sept. 24.
From graduates, faculty
As it neared time for the processional to open the University of Delaware Commencement ceremonies, graduating students and faculty members shared their feelings about what the event means to them.
Doctoral hooding
It was a day of triumph, cheers and collective relief as more than 160 students from 21 nations participated in the University of Delaware's Doctoral Hooding Convocation held Friday morning on The Green.
The winner will have his or her design printed on the Homecoming T-shirt that will be distributed by the Cockpit at the Homecoming pep rally on Friday, Oct. 11. The winning design will be unveiled for the first time at the pep rally.
All students who then wear the official 2013 Homecoming T-shirt to the Fightin' Blue Hens football game on Saturday, Oct. 12, will be eligible for $1 hot dogs during the third quarter.
Three finalists will be announced on the Cockpit website on Tuesday, Sept. 26, and students will be able to vote for their top choice beginning Sept. 26 and continuing until midnight, Tuesday, Oct. 3.
The three finalists will also have their designs displayed at the Homecoming spirit stations around campus during the week of Oct. 7 for the UD community to view.
Rules and guidelines
The rules and guidelines for submissions are as follows:
Currently enrolled University of Delaware students are eligible to enter.
Keep dimensions between: 12 inches x 12 inches. The design must include the words: "2013 Homecoming."
The final design will be screen printed on a royal blue, short-sleeved T-shirt. All designs must be intended for the front of the T-Shirt. Keep in mind that detailed graphics may not print well when screen-printed.
You may use up to three ink colors. If using yellow or blue, the colors must match the primary colors listed in the University Brand Style Guide available at the Office of Communications and Marketing website.
The graphics must be 100 percent your work. Racist, vulgar or other offensive images/text will not be allowed.
Entries should be submitted in PDF format, at no less than 300 DPI resolution (with original, layered Adobe Illustrator or Photoshop file available upon request).
Entries must be emailed to UD-Cockpit@udel.edu no later than Tuesday, Sept. 24.  Finalists will be notified soon after. Delaware Athletics will own the rights to the winning design. 
For additional information on the contest and full design specifications, visit the Cockpit website or contact the Athletics Marketing office at 302-831-6313.