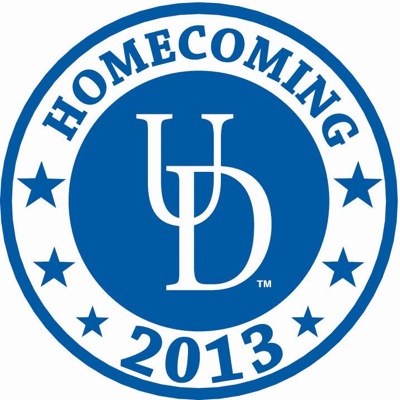 Spirit Stations
Homecoming Week Spirit Station locations, dates announced
8:06 a.m., Sept. 25, 2013--Throughout University of Delaware Homecoming Week Oct. 7-11, students showcasing their Blue Hen pride will have opportunities to win prizes at Spirit Stations located around campus.
Sponsored by the Homecoming Student Committee and the Office of Alumni Relations, Spirit Stations will be giving out a different prize each day for five days to the first 500 students who show up wearing UD gear. Only students wearing UD gear will be eligible for prizes.
From graduates, faculty
As it neared time for the processional to open the University of Delaware Commencement ceremonies, graduating students and faculty members shared their feelings about what the event means to them.
Doctoral hooding
It was a day of triumph, cheers and collective relief as more than 160 students from 21 nations participated in the University of Delaware's Doctoral Hooding Convocation held Friday morning on The Green.
Students can receive a sixth prize by reporting to a minimum of three spirit stations throughout the week and getting a special Spirit Station card punched. The card can then be turned in on Saturday, Oct. 12, at the football game at Delaware Stadium for a special prize.
Spirit Stations will be located at:
Trabant University Center Kiosk (inside);
The Green (south side of Memorial Hall); and
The fountain outside Smith and Kirkbride halls.
All Spirit Stations will be open daily from noon-2 p.m. Prizes are available in limited quantities and will be given on a first-come, first-served basis.
The days and prizes are:
Monday, Oct. 7 – Blue and gold beads;
Tuesday, Oct. 8 – Yellow tube socks;
Wednesday, Oct. 9 – Blue awareness band;
Thursday, Oct. 10 – Sunglasses;
Friday, Oct. 11 – Sweatband/headband; and
Saturday, Oct. 12, at Delaware Stadium – Water bottle. Only students with card with a minimum of three punches are eligible.
For all UD Homecoming events for alumni, students and staff, visit the UD Homecoming 2013 website and stay connected through Facebook. 
Students are encouraged to use the hashtag #UDHC in all tweets and Facebook posts during Homecoming, and are encouraged to follow @UDalumni and @UDelaware for all Homecoming news.
Office of Alumni Relations
The University of Delaware Office of Alumni Relations promotes a lifelong relationship between the University and more than 160,000 living alumni, all of whom are members of the UD Alumni Association, by providing programs, events and awards for alumni and students, maintaining traditions and fostering Blue Hen pride. For more information, visit www.UDconnection.com.