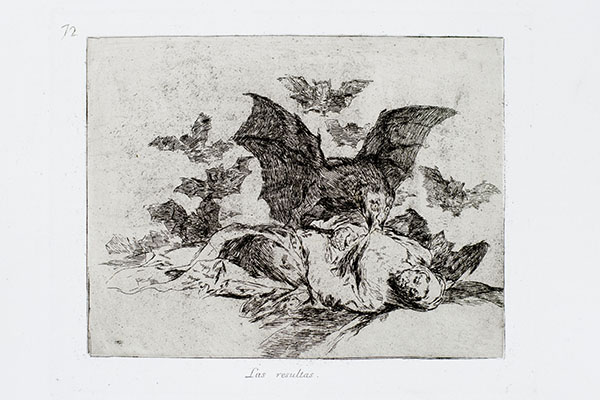 Sept. 25: Goya lecture
Tomlinson to discuss 'Goya's Imagery of War' at Old College Gallery
1:26 p.m., Sept. 11, 2013--Janis Tomlinson, director of University Museums, will present a curator's lecture titled "Capricho to Fatal Consequences: Goya's Imagery of War" at 5:30 p.m., Wednesday, Sept. 25, in 116 Gore Hall on the University of Delaware campus in Newark.
The presentation will be followed by a reception in Old College Gallery, where the exhibition "Goya's War: Los Desastres de la Guerra" in on view through Dec. 8.
June 5: Blue Hen 5K
University of Delaware graduates planning to attend Alumni Weekend are encouraged to register for the annual Blue Hen 5K walk and run, which will be held Sunday morning, June 5.
June 6-9: Food and culture series
The 20th annual June Lecture Series at the Osher Lifelong Learning Institute at UD in Wilmington will be held June 6-9. Titled 'June a la Carte,' this year's program focuses on great political documents, feminism, world politics and a Newark cuisine sampler.
Francisco Goya y Lucientes created "Los Desastres de la Guerra," a series of etchings, in response to the Napoleonic invasion of Spain. Rather than firsthand accounts, these etchings present an extended meditation on the tragedy of war in its many aspects, from corpses strewn on the field of battle and scenes of combat and torture to the impact of armed conflict on civilians of all ages.
Curated by Tomlinson, the exhibition is a collaboration of the University Museums and the Pomona College Museum of Art. It is circulated by Pomona College Museum of Art.
The gallery reception will be held from 6-8 p.m. Those who plan to attend are asked to RSVP by calling 302-831-8037 or sending email to universitymuseums@udel.edu.