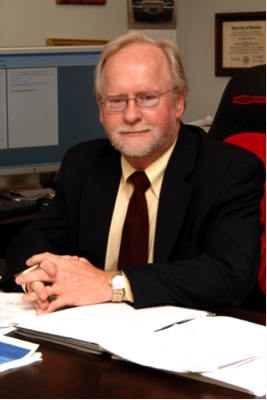 Composite honors
Gillespie elected to 2013 SME College of Fellows
1:28 p.m., Sept. 11, 2013--Jack Gillespie, director of the University of Delaware Center for Composite Materials, is one of just six people recently elected to the 2013 Society of Manufacturing Engineers (SME) College of Fellows.
The college honors members who have made outstanding contributions to the social, technological, and educational aspects of the manufacturing profession. The highly prestigious honor can be earned only through 20 or more years of dedication and service. 
National Medal of Science
President Barack Obama recently presented the National Medal of Science to University of Delaware alumnus Rakesh Jain.
Warren Award
Rosalind Johnson, assistant dean for student success in the NUCLEUS Program in UD's College of Arts and Sciences, was presented the John Warren Excellence in Leadership and Service Award during a May 26 ceremony.
At UD, Gillespie has led the establishment of several major multidisciplinary programs with government-industry-academia partnerships and headed several Department of Defense Centers of Excellence.
"Although Jack has spent his entire career in academia, he has had an astounding impact on composites manufacturing," said Jon DeVault, former president of the Hercules Aerospace Company's Composite Products Group. "Jack has contributed to the development of a number of new composites processing technologies, and he is a master at facilitating technology transition."
Gillespie's international reputation is reflected in dozens of prestigious appointments, including, for example, his being named to the National Research Council's Board on Manufacturing and Engineering Design to provide guidance on leading issues in manufacturing that derive from technical considerations with implications for national policy.
"Dr. Gillespie's scholarship record is outstanding," said Richard Wysk, Dopaco Distinguished Professor of Industrial and Systems Engineering at North Carolina State University. "He has more than 650 publications, including a large number of high-quality journal papers and 15 patents. The unique model he created for basic and applied research to be conducted at an academic center with strong participation by government and industrial partners fosters collaboration, promotes productivity, and facilitates technology transfer."
In addition to being director of CCM, Gillespie is Donald C. Phillips Professor of Civil and Environmental Engineering with appointments in the Department of Materials Science and Engineering and the Department of Mechanical Engineering.
"Dr. Gillespie epitomizes the interdisciplinary approach that is essential to scientific and technological progress in areas like manufacturing in the 21st century," said Ben Wang, Gwaltney Chair in Manufacturing Systems and Executive Director of the Georgia Tech Manufacturing Institute.