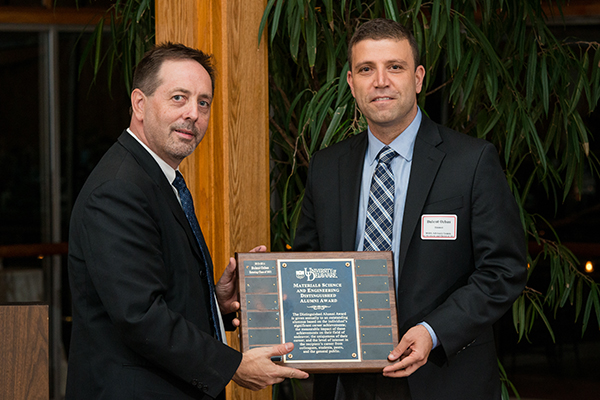 For the Record, Sept. 27, 2013
University community reports recent presentations, publications
3:42 p.m., Sept. 27, 2013--For the Record provides information about recent professional activities of University of Delaware faculty, staff, students and alumni.
Recent anniversary celebrations, announcements, presentations and publications include the following:
From graduates, faculty
As it neared time for the processional to open the University of Delaware Commencement ceremonies, graduating students and faculty members shared their feelings about what the event means to them.
Doctoral hooding
It was a day of triumph, cheers and collective relief as more than 160 students from 21 nations participated in the University of Delaware's Doctoral Hooding Convocation held Friday morning on The Green.
Anniversary celebration
The Department of Materials Science and Engineering celebrated its 15th anniversary at the Winterthur Museum and Gardens visitor center in Wilmington, Del., on Friday, Sept. 20. Alumni, faculty, industry partners and friends in attendance enjoyed tram tours of the garden and a dinner, which was followed by a presentation of the department's inaugural Distinguished Alumni Award to Bulent Ozbas of the Class of 2001 for his significant achievements as a research engineer for Air Products and Chemicals Inc. in Allentown, Pa. The night concluded with remarks by several distinguished members of the University including President Emeritus David Roselle and Deputy Provost Nancy Brickhouse. Over the past 15 years, the department has developed a rich history in research. These efforts have culminated in the developments of technology that increase solar cell efficiency, better deliver leukemia drugs to children, and offer more protection to the nation's soldiers. Addressing these accomplishments, College of Engineering Dean Babatunde A. Ogunnaike expressed what has made this department so successful. "A world-class 21st century College of Engineering must have a vibrant culture of creativity, innovation and entrepreneurship, with a shared vision and commitment to excellence," Ogunnaike said. "These concepts are inherent to the work underway in the materials science and engineering."
Announcements
Julie N. L. Albert, a UD alumna, is now an assistant professor at Tulane University. Albert earned her doctorate in chemical engineering from the University of Delaware in 2011 under the advisement of Thomas H. Epps, III, Thomas and Kipp Gutshall Chair of Chemical and Biomolecular Engineering. Currently, Albert is studying the use of combinatorial methods to engineer nano- and micro-structured polymeric materials for cancer research, alternative energy, and other applications involving biological systems. Her previous research focused on developing gradient methods for exploring the effects of surface interactions on block copolymer thin film self-assembly and tailoring the chemical and mechanical properties of silicone elastomer networks for cell mobility studies and peptide assembly.
Presentations
Rudi Matthee, John A. and Dorothy L. Munroe Chair of History, presented "Na Sharqi, na Gharbi, Irani (Neither East nor West, Iranian): the Historical Roots of the Iranian Quest for Self-Sufficiency," at the 6th Biennial Conference of the Association for the Study of the Persianate Societies, Sarajevo, Bosnia, Sept. 3-6, and "From Admiration to Condescension: Western Views of Iran from the Safavids to the Qajars," at an international symposium titled Cultural Change in Iran and Iraniate Societies, held at the Austrian Academy of Sciences, Vienna, Austria, Sept. 9-11.
Mark Samuels Lasner, senior research fellow, University of Delaware Library, recently addressed a graduate class at the University of Maryland's College of Information Studies. His presentation, "Collecting the Late Victorians," took place Sept. 25 in the course on special collections taught by Douglas E. McEldrath, curator of Marylandia and rare books at the University of Maryland Library.
Samuels Lasner will be the invited speaker at the awards ceremony for the National Collegiate Book Collecting Contest, to take place Oct. 18 at the Library of Congress. First-place winners of college and university book collecting contests are automatically enrolled in this national contest, which is sponsored by the Antiquarian Booksellers' Association of America (ABAA), the Fellowship of American Bibliophilic Societies (FABS), the Center for the Book and the Rare Books and Special Collections Division (the Library of Congress) Contest, with major support from the Jay I. Kislak Foundation.
Margaret D. Stetz, Mae and Robert Carter Professor of Women's Studies and professor of humanities, presented a paper at New York University on Sept. 21 for the International Rebecca West Society's biennial conference. Her paper, "'The Mixed Pleasure and Pain of Knowing You': Rebecca West and Pamela Frankau," examined the nearly 40-year-long relationship, in life and in literature, of these two 20th-century British women authors. 
Publications
Philip Goldstein, professor emeritus of English, with James Machor of Kansas State University, has published the essay "Reception Study in the U.S., 1985-2012," Anglistik: International Journal of English Studies, 24, II (September, 2013): 17-30.
To submit information to be included in For the Record, write to ud-ocm@udel.edu.
Photo by Evan Krape