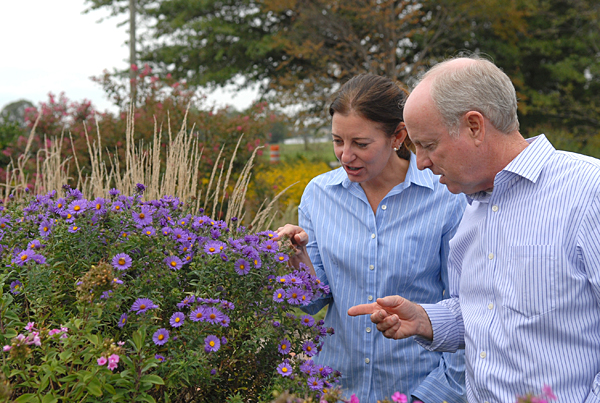 For the Record, Sept. 20, 2013
University community reports recent awards, presentations, publications
12:11 p.m., Sept. 20, 2013--For the Record provides information about recent professional activities of University of Delaware faculty, staff, students and alumni.
Recent appointments, awards, presentations, publications and service include the following:
From graduates, faculty
As it neared time for the processional to open the University of Delaware Commencement ceremonies, graduating students and faculty members shared their feelings about what the event means to them.
Doctoral hooding
It was a day of triumph, cheers and collective relief as more than 160 students from 21 nations participated in the University of Delaware's Doctoral Hooding Convocation held Friday morning on The Green.
Appointments
Jennifer R. Joe, Whitney Family Endowed Chair in Accounting, has been appointed as an editor of Auditing: A Journal of Practice and Theory. Joe will serve as an editor from 2014-17 for the publication, which is the highest ranked journal specializing in auditing research.
Awards
Doug Tallamy, professor of entomology and wildlife ecology, was presented the Tom Dodd Jr. Award of Excellence during the Cullowhee (N.C.) Native Plant Conference held recently at Western Carolina University. Tallamy was chosen for the award in part due to the popularity surrounding his 2007 book, Bringing Nature Home. The book makes a strong scientific case for reintroducing native plants to landscapes and eliminating the "urban deserts" created by planting an abundance of nonnative ornamentals. In the past 30 years that the Cullowhee Native Plant Conference has been held, the number of native plant nurseries has increased substantially as more homeowners have come to value the beauty and understand the benefits of a natural landscape. The award is presented annually to individuals who excel in one of the following areas: conservation of native flora in sites; studying and promoting the understanding of our native flora; building expertise in the propagation/cultivation of native plants; and the use of native plants in a diversity of natural and designed landscapes.
Presentations
Camara Holloway, assistant professor of art history, and Ikem Okoye, associate professor of art history, will speak Oct. 4 at the symposium "American Art in Dialogue with Africa and its Diaspora," organized by the Smithsonian American Art Museum in partnership with the Smithsonian's National Museum of African Art and the National Museum of African American History and Culture. Holloway will present "Aglow in the Darkest Vistas: Africa, Racial Fantasy, and the Modernist Self-Fashioning of F. Holland Day" and Okoye will present "The Americanist Quandary: Of the History of African Art in the Work of the American Artist." 
Bahira Sherif Trask and Barbara Settles, professors in the Department of Human Development and Family Studies, organized a conference in Annapolis, Md., in June for the National Family Science Association. The conference provided attendees from human development and family studies departments across the country the opportunity to discuss the skills students need to make them competitive, while making a positive change in society. Also discussed was the impact of globalization and diversity on U.S. society and why the changes were happening so rapidly. Recent graduates and CEHD students were invited to present, including doctoral students Amanda Rich, Nikki DiGregorio, Juana Gavria, Laura Finan and Megan Barolet-Fogarty, and recent Ph.D. graduates Bethany Willis Hepp and Karen Mancini.
Megan Gaffney, associate librarian, Access Services Department, University of Delaware Library, co-presented with Ronald Peterson of the University of Massachusetts at Amherst the poster session "Mapping the Reach of the Interlibrary Loan" at the 2013 Annual Conference of the American Library Association on June 30 in Chicago.
M. Dina Giambi, associate university librarian for Technical Services and Resource Management, University of Delaware Library, presented "Why Does ALCTS Publish?" during the session "Publish with ALCTS!" at the 2013 Annual Conference of the American Library Association on June 29 in Chicago. ALCTS (Association for Library Collections and Technical Services) is a division of the American Library Association.
Publications
Roberta Golinkoff, Unidel H. Rodney Sharp Chair in Human Services, Education and Public Policy and professor of education in the School of Education, has been published in the September issue of the journal Mind, Brain and Education (Volume 7, Issue 3). The article, titled "Once Upon a Time: Parent–Child Dialogue and Storybook Reading in the Electronic Era," evaluates the impact Interactive shared reading has on children's story comprehension versus the use of electronic reading tools.
Erik Koepf, a UD alumnus, was featured in a September 2013 Popular Science article headlined "Canned Sunshine" for his work on a solar fuels reactor. The issue of the magazine is dedicated to energy. Koepf's research was featured in a Feb. 4, 2013, UDaily article. 
Service
Eric Benson, associate professor, and Robert Alphin, instructor, both in the Department of Animal and Food Sciences, and George Irvine, assistant director in Professional and Continuing Studies, recently hosted 14 international veterinarians for a three-day course on emergency management of poultry disease outbreaks. The course is in its fifth year and has included approximately 70 participants from more than 45 countries. This year's program was supported by the U.S. Department of Agriculture Animal and Plant Health Inspection Service (APHIS) and included participants from Togo, Trinidad, Costa Rica, Belize, Panama, Mexico, El Salvador, South Africa, Botswana and Guatemala.
To submit information to be included in For the Record, write to ud-ocm@udel.edu.
Contributing writer Angela Carcione
Photo by Danielle Quigley