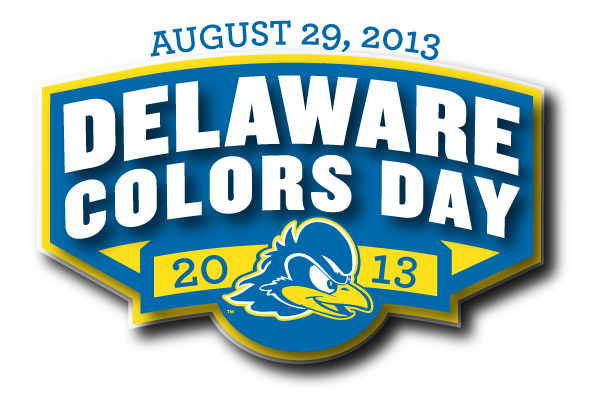 Hens win CAA
CLC announces College Colors Day Spirit Cup winners
11:19 p.m., Sept. 12, 2013--The Collegiate Licensing Company has announced the winners of the second annual College Colors Day Spirit Cup, with the University of Iowa taking the overall championship and the University of Delaware capturing the Colonial Athletic Association (CAA) title.
To celebrate the excitement and energy surrounding the kickoff of the 2013 college football season, CLC and NCAA Football launched the College Colors Day Spirit Cup, a web-based rivalry competition featuring 165 colleges and universities from across the nation
National Medal of Science
President Barack Obama recently presented the National Medal of Science to University of Delaware alumnus Rakesh Jain.
Warren Award
Rosalind Johnson, assistant dean for student success in the NUCLEUS Program in UD's College of Arts and Sciences, was presented the John Warren Excellence in Leadership and Service Award during a May 26 ceremony.
Iowa garnered the most pledges in the competition. Rounding out the top five schools overall were Penn State, Alabama, Clemson and TCU.
UD won the competition in the CAA, followed by Villanova, James Madison, Rhode Island and Drexel.
The cup was promoted on UD social media and the UDaily news service, with the University marking both Delaware Colors Day on Aug. 29 in conjunction with the opening football game and College Colors Day on Aug. 30. Activities around the two days included specials at the Barnes and Noble University of Delaware Bookstore.
"We are honored to recognize the Iowa Hawkeyes as the winner of the College Colors Day Spirit Cup and to congratulate the school on a tremendous effort to rally their fans in the Facebook-based rivalry competition," said Catherine Gammon, senior vice president for brand development with the Collegiate Licensing Company. "We thank all college fans who participated in the competition and encourage fans to continue supporting their favorite school and College Colors Day by wearing their college gear on Friday, Aug. 30."
A formal presentation of the award will take place during the 2013-14 academic year.