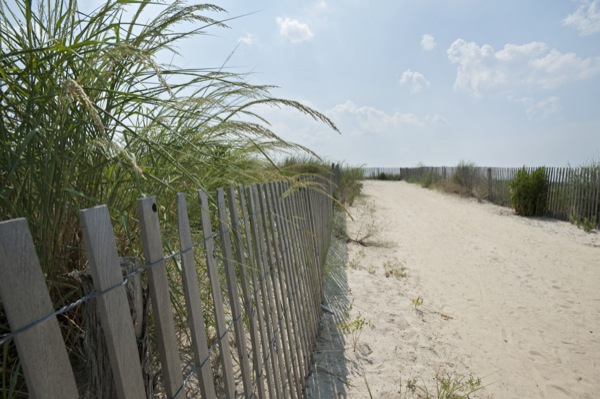 Coast Day Multimedia Contest
$100 gift cards awarded to top videos related to coastal resiliency theme
3:14 p.m., Sept. 19, 2013--Delawareans are invited to share their inspiration from the state's coastal resources by entering the 2013 Coast Day Multimedia Contest. Entries must be submitted via social media by 11:59 p.m., Tuesday, Oct. 1.
The theme for Delaware's 2013 Coast Day, to be held Oct. 6 at the University of Delaware's Hugh R. Sharp Campus in Lewes, Del., is "Building Resilient Coastal Communities," and entrants may submit a short video, 30 seconds or less, on this theme.
From graduates, faculty
As it neared time for the processional to open the University of Delaware Commencement ceremonies, graduating students and faculty members shared their feelings about what the event means to them.
Doctoral hooding
It was a day of triumph, cheers and collective relief as more than 160 students from 21 nations participated in the University of Delaware's Doctoral Hooding Convocation held Friday morning on The Green.
Videos may be animations, photo slideshows or live action, and participants are encouraged to share their thoughts and ideas about resilient coastal communities in Delaware.
Participants may take a wide range of approaches to the topic, such as: how coastal storms may impact their community; what they believe can be done in Delaware to help deal with the effects of coastal storms, sea level rise and flooding; and how they and their families can prepare for the next big storm. 
"Volunteering for beach grass planting to protect dunes, preparing emergency kits at home and staying current on weather are all great examples of how we can help keep the coast safe," said Rebecca Rothweiler, outreach specialist with Delaware Sea Grant and the College of Earth, Ocean, and Environment. "Entrants can use whatever format they feel will best convey their passion and inspiring ideas." 
To enter:
1. Record a video no more than 30 seconds in length. 
2. Share the video on Facebook, Twitter or Instagram using the hashtag #DECoastDay.
3. Make sure that privacy settings are set so that contest organizers can see the post. 
Participants should like or follow Delaware Sea Grant on Facebook, Twitter and/or Instagram and follow the hashtag #DECoastDay to see what others are posting and learn more about Coast Day. This will also allow contest organizers to contact winners in the most efficient manner. 
For more information, contact Rebecca Rothweiler at 302-831-8175 or rebeccar@udel.edu.
The videos, which will be considered only if they are 30 seconds or less, must conform to contest rules and be entered by Oct. 1 via social media. 
Videos will be scored by a panel of judges on several criteria including: content and accuracy of message, creativity, originality and quality of composition.
The two winning entries, which either most closely represent the theme or demonstrate the most creative approach, will each receive a $100 Visa gift card. Winners will be recognized through news releases to the media and shared through Delaware Sea Grant social media. Entries are unlimited per party. 
The winning videos will be featured on the Coast Day website and the Delaware Sea Grant College Program's YouTube channel. Contest winners will receive prizes and recognition at this year's Coast Day, which will be held on Oct. 6, from 11 a.m. to 5 p.m., at the University of Delaware's Hugh R. Sharp Campus in Lewes.
Coast Day, an annual educational festival and showcase for Delaware's rich marine resources, is held every year on the first Sunday in October. Sponsored by UD's College of Earth, Ocean, and Environment (CEOE) and Delaware Sea Grant, Coast Day attracts thousands of visitors and has won state and national awards for its efforts to promote environmental education and stewardship.
For a complete list of Coast Day Video Contest rules, and to learn more about Coast Day, visit the website.
Photo by Evan Krape