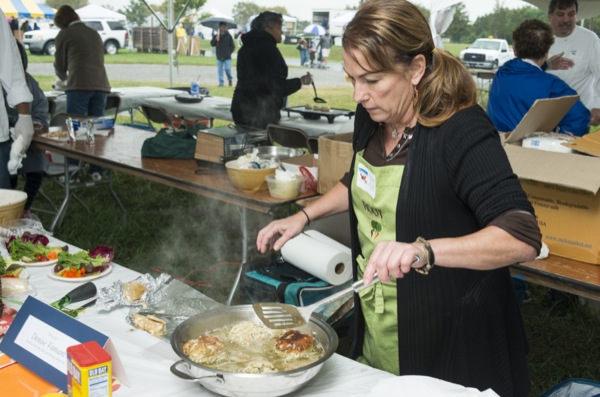 Coast Day seafood competitions
Seafood is on the menu at Coast Day on Oct. 6 in Lewes
9:54 a.m., Sept. 20, 2013--Visitors to this year's Coast Day can indulge in all types of seafood — from crab cakes to clam fritters to chowder and more. Coast Day is free and takes place rain or shine at the University of Delaware's Hugh R. Sharp Campus in Lewes, Del. from 11 a.m. to 5 p.m. on Sunday, Oct. 6. 
New this year, an Oyster Shucking Contest will have contestants prying open a dozen shells per round while on the clock. The winner, based on the quality and swiftness of their work, will receive a $1,000 cash prize.
From graduates, faculty
As it neared time for the processional to open the University of Delaware Commencement ceremonies, graduating students and faculty members shared their feelings about what the event means to them.
Doctoral hooding
It was a day of triumph, cheers and collective relief as more than 160 students from 21 nations participated in the University of Delaware's Doctoral Hooding Convocation held Friday morning on The Green.
The oysters are being donated by the Broadwater Oyster Co., and the contest starts at 3 p.m. at the Food Festival. To apply to be a contestant, visit this web page. 
The always-popular Crab Cake Cook-Off will have chefs vying for the coveted title of "The Best Crab Cake in Delaware." Finalists will compete for cash prizes, a plaque and the opportunity to return next year as a judge in the competition. The panel of judges will include: last year's cook-off champion, Bonnie Robinson; the winner of the blue crab trivia contest, retired UD nutrition faculty member Caroline Manning; and Lee Blackwood, food writer and chef aboard UD's R/V Hugh R. Sharp. 
In a nearby tent, the Seafood Chowder Challenge offers free samples of delectable chowders and encourages tasters to vote for their favorite. The Chowder Challenge brings friendly competition between the ACF First State Chefs Association and Oertel Catering. 
Attendees can also learn how to prepare savory seafood dishes at cooking demonstrations in the Virden Center's Pilot Room. Experts will show how to make a healthy margarita shrimp salad, seafood stew and flavorful fish tacos.
Soft shell crab sandwiches, chowders and other seafood will be available for purchase near the Food Festival, and non-seafood options will also served. 
Coast Day features not only seafood, but also many other valuable coastal resources. Visitors can attend lectures, learn about ocean issues, participate in fun, hands-on activities and view the largest collection of Lego ships in the world.
The event is rain or shine, with free admission and parking. Follow along on social media with the hashtag #DECoastDay.
Coast Day is hosted by UD's College of Earth, Ocean, and Environment and Delaware Sea Grant. This year's sponsors include DuPont Clear into the Future, DNREC, NOAA, WMDT-CW-3, Dover Rent-All, Gamesa, Overseas Shipholding Group Inc., Port of Wilmington, UTEC Survey, Weston Solutions, Delaware Center for the Inland Bays, ERM, Partnership for the Delaware Estuary, Statoil, Survice Engineering, WDDE, Brownfield Science & Technology, Envirotech Environmental Consulting, Water Resources Agency and L Town Surf and Earth.
Article by Annie Birney
Photo by Kathy F. Atkinson