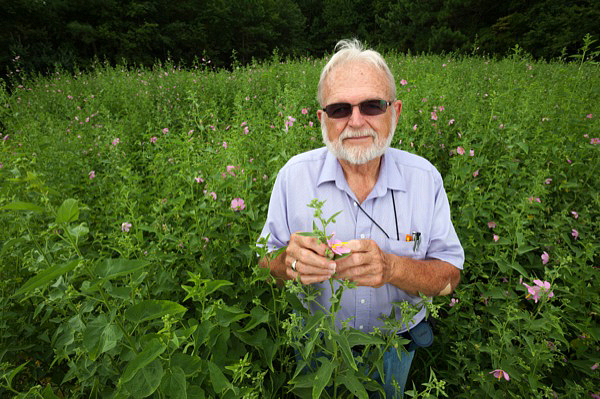 Coast Day lectures
Coast Day topics include sea level rise, Hurricane Sandy, marine mammals
2:11 p.m., Sept. 25, 2013--Delaware hurricanes, marine mammals and other intriguing coastal topics will be featured in a series of lectures at Coast Day on Oct. 6. The presentations will be held in Room 202 of the Cannon Laboratory at the University of Delaware's Hugh R. Sharp Campus in Lewes.
Leading off at 12:30 p.m will be Jack Gallagher, professor emeritus of marine biosciences in UD's College of Earth, Ocean, and Environment (CEOE), presenting "Partnering with Salt-Marsh Plants to Solve Sea Level Rise Problems in the Uplands." Gallagher will discuss his research on salt-marsh plants and the how they can provide solutions to sea level rise problems. 
From graduates, faculty
As it neared time for the processional to open the University of Delaware Commencement ceremonies, graduating students and faculty members shared their feelings about what the event means to them.
Doctoral hooding
It was a day of triumph, cheers and collective relief as more than 160 students from 21 nations participated in the University of Delaware's Doctoral Hooding Convocation held Friday morning on The Green.
At 1:30 p.m., Dan Leathers, professor of geography and Delaware State Climatologist, will explain "Tropical Systems in the Mid-Atlantic and Hurricane Sandy." Leathers will talk about Hurricane Sandy and some of its unusual characteristics, followed by the impacts that the storm had in Delaware.
At 2:30 p.m., Art Trembanis, associate professor of oceanography and geological sciences, will follow Leathers with his presentation, "Sandy's Fingerprint: Inner Shelf Scour and Bedform Dynamics." Trembanis will describe his team's research at Redbird Reef, an artificial reef about 16 miles off of the Indian River Inlet, and what the scientists have learned from the data recorded on site during Hurricane Sandy. 
At 3:30 p.m., Suzanne Thurman of the MERR Institute will address "Marine Mammals and Sea Turtles of the Delaware Coast." In this talk, Thurman will discuss sea turtles and other local marine animals, as well as the need for conservation of these sea creatures.
Coast Day is hosted by CEOE and Delaware Sea Grant. This year's sponsors include DuPont Clear into the Future, DNREC, NOAA, WMDT-CW-3, Dover Rent-All, Gamesa, Overseas Shipholding Group Inc., Port of Wilmington, UTEC Survey, Weston Solutions, Delaware Center for the Inland Bays, ERM, Partnership for the Delaware Estuary, Statoil, Survice Engineering, WDDE, Brownfield Science & Technology, Envirotech Environmental Consulting, Water Resources Agency and L Town Surf and Earth.
The event is rain or shine, with free admission and parking. Follow along on social media with the hashtag #DECoastDay.
Note to the UD community
Free bus transportation to Lewes from Newark will be available for UD students and employees. Reservations are available on a first-come, first-served basis and must be made by 4 p.m. Thursday, Oct. 3. 
To reserve a spot, contact the Environmental Public Education Office at 302-831-8083 or CEOE-epe@udel.edu with the following information: name, department (if applicable), phone number and number of seats to be reserved.
Article by Andrew Cooper
Photo by Evan Krape