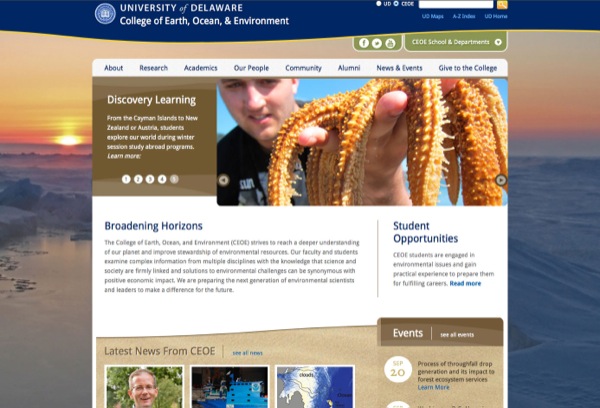 CEOE's new website
College of Earth, Ocean, and Environment announces new website design
11:01 a.m., Sept. 18, 2013--The University of Delaware's College of Earth, Ocean, and Environment (CEOE) has launched a dynamic, newly redesigned website that features student life, faculty research and enhanced performance on mobile devices. 
The website went live last month, with faculty members since customizing their own profiles, publications, courses and research projects to showcase the latest updates from the classroom and the field. 
From graduates, faculty
As it neared time for the processional to open the University of Delaware Commencement ceremonies, graduating students and faculty members shared their feelings about what the event means to them.
Doctoral hooding
It was a day of triumph, cheers and collective relief as more than 160 students from 21 nations participated in the University of Delaware's Doctoral Hooding Convocation held Friday morning on The Green.
"We undertook a massive redesign, not just an incremental update," said CEOE Dean Nancy Targett. "Through input from our faculty, staff and students, we developed a site design and structure that highlights the impactful environmental programs we conduct."
The website is optimized for viewing on various devices thanks to a responsive design that automatically detects whether viewers are using desktop computers, smartphones or tablets — and reorganizes the content accordingly. 
The site prominently features CEOE's new social media feeds on Facebook, Twitter and YouTube. Popular areas of the former site, like the live webcam on the Hugh R. Sharp Campus in Lewes, are now accessible directly from the homepage. 
Prospective and current undergraduate and graduate students can easily find information needed to further their academic careers. While on the site, news and research updates automatically feed into pages to encourage exploration of other CEOE opportunities. 
"Our faculty and students use cutting-edge technology while tackling important issues in environmental science and policy," said Janis Lopez, CEOE's assistant dean for graduate studies, who served as the project manager through the development stage. "Now our website is a fitting platform to reflect their work. I owe many thanks to our CEOE IT team, our Environmental Public Education Office and many other members of our faculty, staff and students for their input and participation in this process. The delivery was truly a team effort."
Continuing to work with web developer Bridgeline Digital, CEOE will introduce ongoing improvements to the website over the course of the year, such as reduced load times, blogging capabilities and a worldwide research map. 
Management of the website is now under the direction of CEOE's Environmental Public Education Office (EPE). Feedback and questions about the site can be directed to EPE Director Katy O'Connell at kvo@udel.edu.