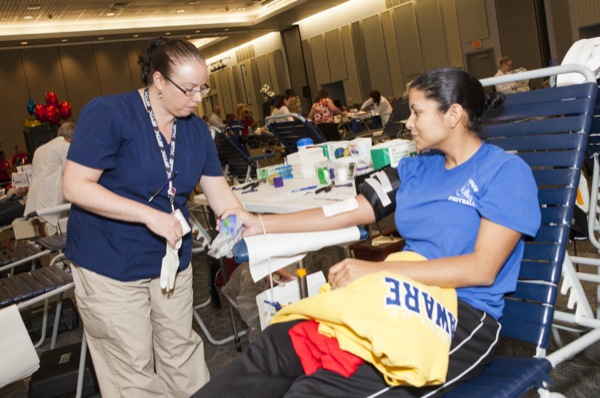 Sept. 11: Blood drive
Blood Bank of Delmarva to hold 'One Day' blood drive at Trabant
10:14 a.m., Sept. 5, 2013--The Blood Bank of Delmarva has announced that a campus blood drive will be held from 10 a.m.-5 p.m., Wednesday, Sept. 11, in the Multipurpose Rooms of the University of Delaware's Trabant University Center.
The blood drive, sponsored by the National Residence Hall Honorary, a registered student organization at UD, is part of the One Day Blood Drive Project developed by students at Georgia Tech to honor and remember those lost in the 9/11 terrorist attacks.
June 5: Blue Hen 5K
University of Delaware graduates planning to attend Alumni Weekend are encouraged to register for the annual Blue Hen 5K walk and run, which will be held Sunday morning, June 5.
June 6-9: Food and culture series
The 20th annual June Lecture Series at the Osher Lifelong Learning Institute at UD in Wilmington will be held June 6-9. Titled 'June a la Carte,' this year's program focuses on great political documents, feminism, world politics and a Newark cuisine sampler.
The project is designed to unite colleges and universities in all 50 states by giving blood in honor of those who gave their lives.
To participate, donors must be at least 17 years old, weigh at least 110 pounds and be in general good health.
Donors are asked to eat a good meal within three hours of giving blood and to drink plenty of water.
To schedule an appointment, visit the Blood Bank of Delmarva website or call 1-888-8-BLOOD-8.
Photo by Ambre Alexander