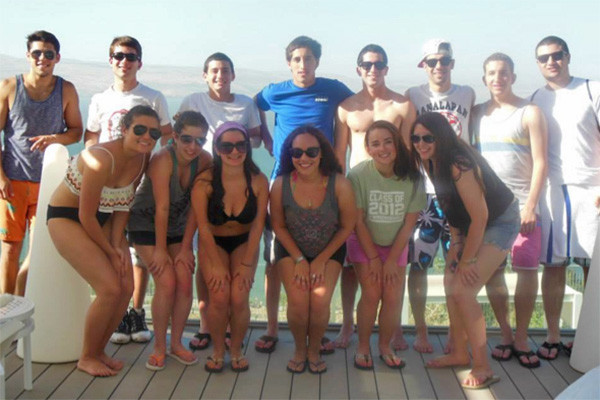 Journey to Israel
UD Hillel sponsors Taglit-Birthright Israel travel program
8:50 a.m., Sept. 18, 2013--Israel is a nation that most people only know for the stories of conflict seen on the news but for the Jewish people it is much more than that -- a homeland and the place of their ancestors and history.
Taglit-Birthright Israel is a program designed to ensure that every young Jew has the chance to go to Israel, regardless of his or her financial ability or the strength of his or her religious affiliation. Every student with Jewish heritage is eligible for a free trip to Israel through Birthright, and for many years University of Delaware Hillel, the center for Jewish life on campus, has been sending groups of students to Israel each summer and winter through this program.
Fulbright awards
Three University of Delaware students and an alumna have received word this spring that they will travel abroad as part of the newest class of Fulbright Student Program award winners.
Peace Corps plans
Two University of Delaware students, John McCarron and Bridgette Spritz, have been selected as Peace Corps volunteers and will serve in Ghana and Rwanda.
The experience of traveling to Israel is different for every student but each participant, according to UD students, is without a doubt changed by his or her 10 days in the Jewish homeland. Lauren Friedberg, Casey Pozanek and Emily Prafder, participants from this past summer's trip, have said that Birthright "gave [them] an opportunity to learn more about [themselves] than [they] ever thought possible," that it is a "powerful experience" and that the trip is "life changing."
On the trip, students participate in a variety of activities that are unique to Israel. They ride camels through the desert, climb the famous Mount Masada, pray at the Western Wall, float in the Dead Sea, visit the busy markets of Jerusalem, lie on the beaches of Tel Aviv, volunteer in small communities, shop in Israeli malls, and much more.
One of the most meaningful parts of the trip is spending 5-10 days with a group of Israeli soldiers, who share their experiences of living in Israel and serving in the army with the American students. 
Said Sarah Coonin, "They were inspiring people and so much fun; I'll cherish those memories forever."
Through Birthright, Jewish students have the chance to learn about Israeli culture, form long-lasting friendships and discover what it means to them to be a part of the Jewish community.
Registration for the next winter trip with UD Hillel is open now. Students can register at this website and can email UD Hillel's Israel fellow, Adir Ben Tovim, at adir@udel.edu with any questions.