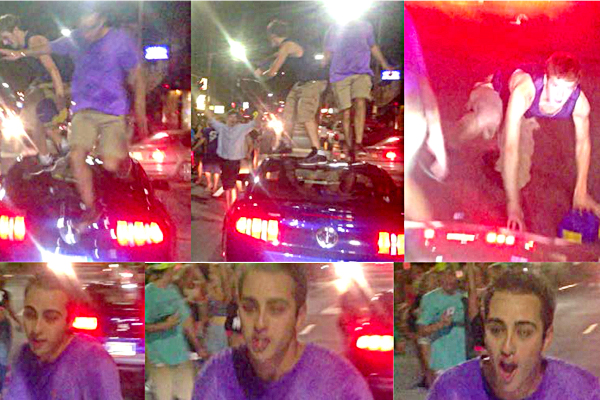 Assistance sought
Newark Police seek public's assistance in identifying suspects
2:12 p.m., Sept. 12, 2013--Newark Police are seeking the public's assistance in identifying two suspects accused of criminal mischief in connection with the large disorderly gathering on the evening of Monday, Sept. 9, that began at a party in the 400 block of South College Avenue in Newark.
After police arrived and dispersed the party there, those attending traveled north along South College Avenue to East Main Street. On East Main, police said individuals were walking in the roadway blocking vehicular traffic and banging and jumping on vehicles. 
Newark Police have released photos of two suspects who jumped on top of a Ford Mustang causing damage.
The suspects are described as 18- to 20-year -old men, one wearing beige shorts and a blue tank top, with a blue/yellow hat; and the other wearing beige shorts and a purple T-shirt.
Anyone able to identify the suspects is asked to contact Detective Greg. E. Micolucci at 302-366-7110, ext. 132, or at greg.micolucci@cj.state.de.us.
Visit this website to receive a UD Crime Alert email whenever an article about a police investigation is posted on UDaily.