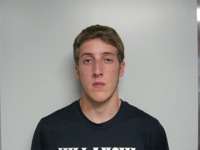 Criminal mischief
Newark Police arrest second suspect in criminal mischief incident
8:43 a.m., Sept. 14, 2013--Newark Police have arrested the second suspect shown in surveillance photos of the disorderly crowd in Newark on the evening of Monday, Sept. 9.
After Newark Police released the photos of two suspects who damaged the roof of a Ford Mustang during the incident, they received numerous tips leading to the identification of Stephen Avallone, 18, of Newark. 
Avallone was charged with riot, criminal mischief and disorderly conduct, and he was released on $6,000 unsecured bond. Avallone is a UD student.
Visit this website to receive a UD Crime Alert email whenever an article about a police investigation is posted on UDaily.