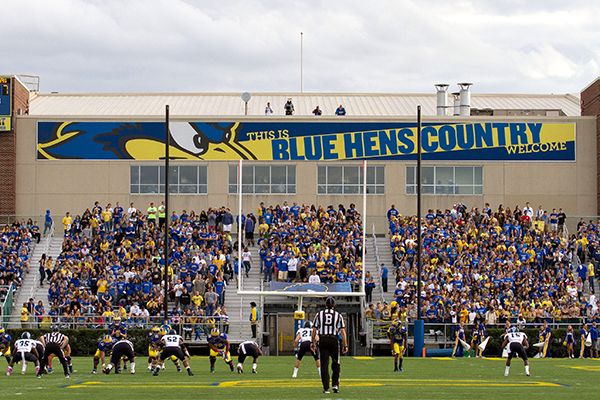 Alumni activities
Homecoming Week 2013 offers variety of events for UD alumni
5:37 p.m., Sept. 13, 2013--Homecoming Week 2013 is approaching and University of Delaware alumni are invited to return to campus for a wide variety of activities.
The week will be held Oct. 7-13, with events including the Presidential Citation for Outstanding Achievement, the UD Alumni Association Outstanding Alumni Awards and the UD football game against Albany on Saturday, Oct. 12, at Delaware Stadium.
'Resilience Engineering'
The University of Delaware's Nii Attoh-Okine recently published a new book with Cambridge University Press, "Resilience Engineering: Models and Analysis."
Reviresco June run
UD ROTC cadets will run from New York City to Miami this month to raise awareness about veterans' affairs.
New this year, there will be a game day Goalpost Party for alumni.
For details on Homecoming events, click here.
Other alumni activities are as follows:
Monday, Sept. 16, 6 p.m.: Tailgate Cooking Demo at Delaware Stadium. Learn how to make great-tasting game-time treats and improve your own favorite tailgate dishes at this popular annual cooking demo, led by Vita Nova chef Debbie Ellingsworth '77.
Friday, Sept. 20, 5 p.m.: Baseball series: Tampa Bay. Join Tampa Bay Blue Hens for the annual summer baseball game as the Tampa Bay Rays take on the Baltimore Orioles, preceded by a reception at Ferg's Sports Bar.
Saturday, Sept. 21, 9 a.m.-1 p.m. or 1-5 p.m.: UD Day of Service. Alumni are invited to participate in the UD Day of Service by volunteering at the Pennsylvania Horticulture Society Fall Garden Festival, to be held at the Philadelphia Navy Yard on South Broad Street.
Sunday, Sept. 22, noon-2 p.m.: Bridgeville u-pick. Alumni are invited to a u-pick and family picnic at T.S. Smith and Sons Farms and Orchard in Bridgeville, Del. 
Wednesday, Sept. 25, 5:30 p.m.: Art History Graduate Student Lecture Series. Janis Tomlinson, director of University Museums, will present a talk titled "From Capricho to Fatal Consequences: Goya's Imagery of War."
Thursday, Sept. 26, 11 a.m.: UD Career Fair. The UD Fall Career Fair will be held at the Bob Carpenter Center, and alumni and students are welcome.
Thursday, Sept. 26, 5:30 p.m.: CEOE School of Marine Science and Policy reception. Nancy Targett, dean of the College of Earth, Ocean, and Environment invites alumni to celebrate Lee Anderson's extensive UD career during a special event at the Circle Bistro in Washington, D.C.
Tuesday, Oct. 1, 6 p.m.: Philadelphia Oktoberfest happy hour. The Philadelphia Alumni Club will hold an Oktoberfest happy hour at Frankford Hall.
Wednesday, Oct. 2, 5:30 p.m.: Art History Graduate Student Lecture Series. Sarah Meister, curator in the Department of Photography at the Museum of Modern Art in New York City will present a talk.
Saturday, Oct. 5, 4:30 p.m.: CEOE Alumni Picnic. Reunite with alumni, faculty and students for a College of Earth, Ocean, and Environment event at the Hugh R. Sharp Campus in Lewes. Charles Epifanio, professor, will offer a special presentation titled "A Wild, Wet and Windy Journey: The History of Marine Science at UD."
Saturday, Oct. 5, 6 p.m. Maryland Field of Screams. Blue Hens will gather for a happy hour and trip to the Field of Screams in Olney, Md.
Sunday, Oct. 6, 9:30 a.m. Miami Dolphins game. The South Florida Alumni Club is offering a fun-filled day at Sun Life Stadium as the Miami Dolphins, with former Blue Hen quarterback Pat Devlin, meet the Baltimore Ravens, with fellow Hens Joe Flacco and Gino Gradkowski.
Sunday, Oct. 6, 10 a.m.: Coast Day breakfast. College of Earth, Ocean, and Environment alumni and the families are invited to a special breakfast at Coast Day at the Hugh R. Sharp Campus in Lewes.
Thursday, Oct. 10, 6 p.m.: Philadelphia Blue Hen Attorney Networking Event. This inaugural Blue Hen Attorney Networking Event with the Philadelphia Alumni Club (open to attorneys and current students) will include open bar, hors d'oeuvres and a panel discussion.
Thursday, Oct. 17, 2 p.m.: Interdisciplinary Science and Engineering Laboratory Grand Opening and Dedication. Explore the new ISE Lab and visit with the students and faculty who are benefiting from this transformative addition to UD campus.
Friday, Oct. 18, 6 p.m.: Blue Hens at the Hershey Gardens Pumpkin Glow. Join alumni and families to marvel at 150 uniquely carved, illuminated pumpkins along the garden path on this gentle stroll through one of the nation's leading gardens.
Saturday, Oct. 19, 10:30 a.m.: American Moderns Saturday Symposium: What Does Modern Mean? Alumni and the general public are invited to this event, hosted by UD Friends of Art History and the Delaware Art Museum, to tour the exhibition American Moderns, 1910 – 1960: From O'Keeffe to Rockwell and hear talks by experts.
Saturday, Oct. 19, 5:30 p.m.: Post-Regatta Happy Hour with the Boston Alumni Club. Join Boston Blue Hens for a post-race happy hour at Tavern in the Square in Cambridge after the Head of the Charles Regatta.
The Office of Alumni Relations recognizes and thanks the UD Alumni Association for its support of several of these events.
Photo by Mark Campbell