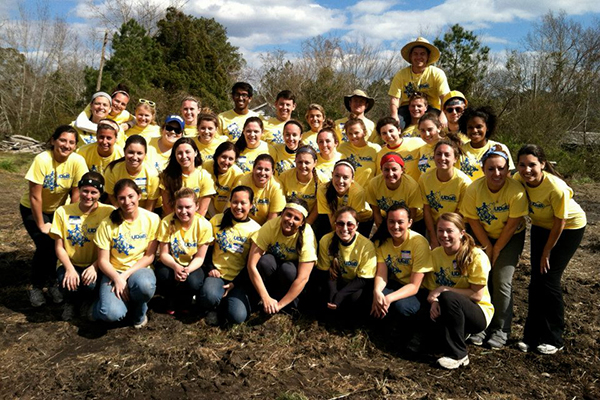 UDaB application opens
2014 Alternative Spring Breaks sites announced, information sessions set
1:19 p.m., Sept. 12, 2013--The University of Delaware Alternative Spring Breaks (UDaB) has determined site issues and locations for the trips taking place during the 2014 spring break. 
Information sessions for UDaB will be held Wednesday, Sept. 18, at 7:30 p.m. in 318 Gore Hall; Tuesday, Sept. 24, at 6 p.m. in 318 Gore Hall; Sunday, Sept. 29, at 3 p.m. in 116 Purnell Hall; and Thursday, Oct. 3, at 5:30 p.m. in 318 Gore Hall. 
From graduates, faculty
As it neared time for the processional to open the University of Delaware Commencement ceremonies, graduating students and faculty members shared their feelings about what the event means to them.
Doctoral hooding
It was a day of triumph, cheers and collective relief as more than 160 students from 21 nations participated in the University of Delaware's Doctoral Hooding Convocation held Friday morning on The Green.
This year, UDaB will be sending out eight trips, an increase of three from previous years. The increase to eight trips showcases how quickly the alternative breaks program has grown in the three years since its founding.
This year, UDaB is also collaborating with the Honors Program (Migration in the Dominican Republic, led by Kisha Oister and Alexandra Handzo), Blue Hen Leadership Program (Habitat for Humanity in North Carolina, led by Camille Kent and Lisa Kucharski) and the School of Nursing (Health in Jamaica, led by Kathleen Luckner and Stephanie Everitt). Application to these trips will be through the UDaB application. In addition, UDaB is working with Residence Life and BHLP-January to support training of their site leaders.
The eight UDab trips are:
UDaB will partner with Habitat for Humanity again to complete an affordable housing issue trip, led by Donald Ford and Sara Bosley.
An arts education trip, led by Eric Anderson and Paige Geist, will work with Bright Beginnings in Washington, D.C., for the third time. UDaB will partner with the non-profit family development center, which provides education to homeless preschool children. Participants will be working as classroom assistants and doing various activities with the children.
UDaB will once again partner with the National Relief Network on two disaster recovery trips. Site leaders for disaster recovery in the New Orleans area are Angie Mitchell, Kevin Sun, and Lorene McCoy. Site leaders for the disaster recovery emergency response trip are Bimal Amin, Kevin Lapham, and Alison Billings. This destination will be determined after the storm season, depending on what region has the most need.
A hunger and homelessness issue trip will partner with Cass Community Social Services, in Detroit. The site leaders are Alex Farrell and Kelly Daniels, and participants will work on various service projects centered on poverty, homelessness and hunger issues in an urban area. 
UDaB will send two environment-related trips. The first is an urban environment trip, led by Veronica Zuccarello and Kevin Connelly, where participants will be reclaiming an abandoned lot to create a garden for local community members. The second is urban farming, led by Julia Conrad and Brian Griffiths, where UDaB will be working with a local agency to prepare urban farms for the growing season. Both sites are to be announced.
A health issues trip will be led by Gabrielle Dundas and Erin Dugan. The work and site are to be announced. 
The application for these trips opens Monday, Sept. 16, and closes Monday, Oct. 7, at 5 p.m.
More information about UDaB and link to the application can be found at the University's Service Learning website. Check for updates on Facebook and Twitter.