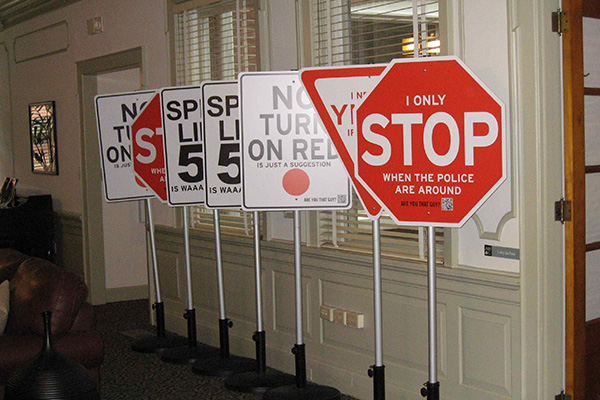 Cheer good drivers
UD, Office of Highway Safety partner to combat aggressive driving
3:06 p.m., Sept. 18, 2013--The University of Delaware and the Delaware Office of Highway Safety will sponsor an event to combat aggressive driving from 11:55 a.m. to 12:25 p.m., Friday, Sept. 20, at Delaware Avenue and The Green.
A "Don't Be Aggressive, Don't B-E Aggressive" demonstration featuring the University cheerleading team will have members applauding drivers as UD Police stop traffic at the pedestrian crossing.
June 6: UDid It! Picnic
All UD faculty and staff members are invited to attend the annual UDid It! employee appreciation picnic, set from 11 a.m.-1:30 p.m., Monday, June 6, on The Green.
2FA protects you
If you are using two-factor authentication (2FA), even if a hacker has your password, your information is probably safe.
The event is part of a statewide effort to put the brakes on aggressive driving in the state.
Violations include rolling through stop signs, running red lights, speeding, riding on people's bumpers, passing on shoulders, changing lanes frequently without using a signal, failing to merge and not yielding the right of way.
The state is encouraging drivers to reconsider aggressive driving with a "Don't Be That Guy" effort.
According to Office of Highway Safety statistics, aggressive driving in New Castle County has increased by 7.25 percent, with the figures higher in every month over 2012.
Newark saw 354 crashes and 185 injuries in 2012.
The times of day with the highest aggressive driving rates are from 6-9 a.m. and from 3-7 p.m., with Fridays having the most aggressive driving-related accidents.
Most aggressive drivers are male, and many are between the ages of 20-29.