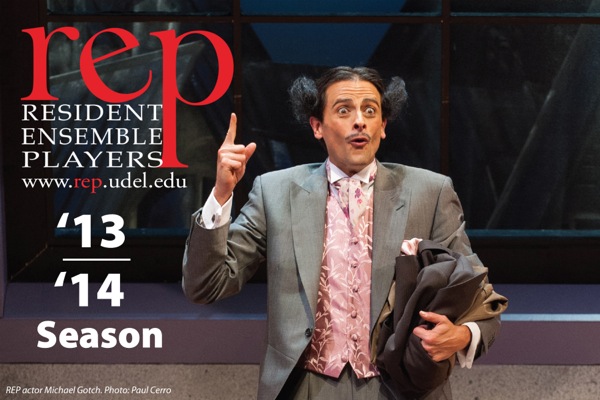 Curtain up
Resident Ensemble Players announces 2013-2014 Season
3:40 p.m., Sept. 13, 2013--The University of Delaware's Resident Ensemble Players (REP) is pleased to announce its 2013-14 season, which includes Tennessee Williams' great American classic The Night of the Iguana; Carlo Goldoni's wild Italian Commedia dell'Arte farce The Servant of Two Masters; Agatha Christie's fiendishly fun murder mystery The Mousetrap; Johann Wolfgang von Goethe's "devilish" masterpiece of world literature Faust; and Margaret Edson's Wit, a Pulitzer prize-winning play of life, death and the transformative power of human connection. 
Subscriptions and single tickets can be purchased by contacting the REP box office at 302-831-2204, emailing cfa-boxoffice@udel.edu or visiting www.rep.udel.edu.
From graduates, faculty
As it neared time for the processional to open the University of Delaware Commencement ceremonies, graduating students and faculty members shared their feelings about what the event means to them.
Doctoral hooding
It was a day of triumph, cheers and collective relief as more than 160 students from 21 nations participated in the University of Delaware's Doctoral Hooding Convocation held Friday morning on The Green.
"The REP's 2013-14 season offers audiences a terrific line up from the classic to the contemporary, from the highly profound and theatrical to the rolling-in-the-aisles comedy," says Sanford Robbins, producing artistic director of the REP.  "This season we present our audiences with a wild ride that will rock them with laughter, move them to tears, provoke personal reflection and, after all that, they get to try and solve an ingeniously fun who-done-it!"
THE NIGHT OF THE IGUANA
Written by Tennessee Williams; directed by Edward Stern. Sept. 26 - Oct. 13; opening night: Sept. 28. Thompson Theatre, Roselle Center for the Arts
Deep in the sultry coastal jungle of 1940s Mexico, a dilapidated hotel houses despair, desire and redemption in this haunting and deeply moving play by one of America's greatest playwrights. A defrocked priest, a sensuous widow, a world-weary artist and a host of other lost souls join together in this engrossing story of dying dreams, frustrated sexuality and the intense need to find a sense of grace and dignity in one's life.
THE SERVANT OF TWO MASTERS
By Carlo Goldoni, translated and adapted by Jeffrey Hatcher and Paolo Emilo Landi; directed by Paolo Emilo Landi. Nov. 14 - Dec. 8; opening night: Nov. 16. Thompson Theatre, Roselle Center for the Arts
Hilarity abounds in this madcap Italian comedy of lovers, lawyers, servants and 27 plates of meatballs. Truffaldino, the scheming -- and perpetually hungry -- servant concocts a zany scheme to double his wages (and his meals) by serving two masters at once, while betrothed couple Silvio and Clarice are devastated to learn that a previous fiancé has reappeared, apparently back-from-the-dead.  This commedia dell'Arte masterpiece, hilariously adapted by Jeffrey Hatcher and Paolo Emilo Landi, promises laugh-out-loud mayhem and a delightful guest appearance by Mabel, the Percheron horse.
THE MOUSETRAP
By Agatha Christie; directed by Steve Tague. Jan. 23 - Feb. 9; opening night: Jan. 25. Thompson Theatre, Roselle Center for the Arts
It's murder, pure, simple and fiendishly fun. Two proprietors of a snow-bound manor house, five mistrustful and shifty guests, one police detective and a rising body count add up to one of the most popular thrillers of all time. Playwright Agatha Christie, the undisputed mistress of mystery, strands a group of suspicious strangers in a stately home in the English countryside, while a murderer on the loose has infiltrated the house, in search of the next victim. Each guest suspiciously eyes the others and tries to ferret out the guilty culprit, but the twists and turns keep everyone, including the audience, guessing.
FAUST
By Johann Wolfgang von Goethe, adapted by Heinz-Uwe Haus; directed by Heinz-Uwe Haus. March 6 - March 23; opening: March 8. Thompson Theatre, Roselle Center for the Arts
Restless for knowledge and power, Faust makes a deal with the devil -- his soul in exchange for total knowledge, absolute power and the ability to perform the black arts. After sealing the pact with a drop of blood, Faust finds himself in the throes of a heady and hedonistic adventure of epic proportions. Beautiful women, fantastical travel, extraordinary alchemy. But at what cost? Combining the highest level of theatricality with challenging and thought provoking ideas, this landmark in world literature is brought to vivid and spectacular life with magic, monsters, electrifying effects and a host of devilish delights.
WIT
By Margaret Edson, directed by Sanford Robbins. April 24 - May 10, opening: April 26. Thompson Theatre, Roselle Center for the Arts
A critic in New York Magazine said of Wit:  "You feel both enlightened and, in a strange way, enormously comforted.  A dazzling and humane play that you will remember till your dying day."  Winner of the 1999 Pulitzer Prize for Drama, Margaret Edson's play follows Vivian Bearing, a brilliant, demanding and highly articulate poetry professor, as she undergoes experimental treatment for ovarian cancer. During the course of her illness, Vivian is moved from a position of authority to one of dependency, and she reassesses her life and work in an emotionally powerful, profound, sometimes humorous and finally inspiring way that transforms her and each of us. Wit is a deeply compassionate and uplifting story of a life and death conflict between the head and the heart.
About the REP
The Resident Ensemble Players (REP), established in 2008 and located at the University of Delaware, is a professional theatre company whose mission is to engage audiences throughout the ti-state area with frequent, outstanding productions of a variety of classic, modern and contemporary plays performed in a wide variety of styles that celebrate and demonstrate the range, breadth and ability to transform of a full-time ensemble of nationally respected stage actors who have been trained in the same way. The REP is committed to create future audiences for live theatre by offering its productions at very low prices that enable and encourage the attendance of everyone in the region regardless of income.
Subscription information
The REP is committed to keeping professional theatre reasonably priced and offers a variety of subscription packages for audiences to enjoy the entire season, starting at just $23 for a general public ticket. Subscribers enjoy significant savings on tickets, the best choice of seats and a liberal ticket exchange policy. Discounts are available for students, seniors and UD faculty and staff. Group discounts are available for groups of 10 or more.
A complete schedule, directions and information on purchasing tickets can be found at www.rep.udel.edu or by calling the REP's box office from noon-5 p.m., Mondays through Fridays, at 302-831-2204.