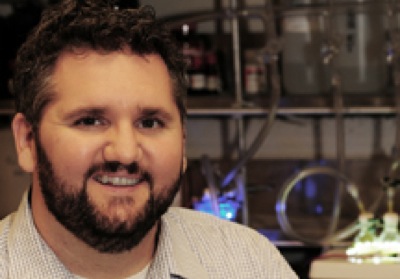 Student invited chemistry seminar
Colloquium to highlight visible light-enabled catalysis
4:47 p.m., Sept. 13, 2013--Corey Stephenson, a University of Michigan chemist whose research focuses on performing syntheses in an environmentally conscious way, will present the second annual student invited chemistry seminar in the University of Delaware Department of Chemistry. The presentation will be held Wednesday, Sept. 25, beginning at 4 p.m. in 101 Brown Laboratory. 
"We are very excited to welcome Prof. Stephenson as our speaker this fall," said Kirk Shimkin, doctoral student in chemistry and biochemistry at UD and a member of the annual seminar's organizing committee. "His work using visible light photo redox catalysis is revolutionizing the way chemists put together complex molecules, making him a rising star in the field of chemistry."
Chronic wounds
UD's Millicent Sullivan and Kristi Kiick have received a $1.4 million grant from the National Institutes of Health for research that could provide a new approach to the treatment of chronic wounds.
Prof. Heck's legacy
The American Chemical Society is highlighting the legacy of the late Nobel laureate Richard Heck, the Willis F. Harrington Professor Emeritus of Chemistry at the University of Delaware with a digital tribute on its publications website.
By using visible light, Stephenson and his group prepare waste-free, non-toxic "reagent" complex natural products. Since most organic molecules do not absorb visible light, they can use photosensitive catalysts to carry out transformations under mild conditions in the presence of otherwise reactive functional groups. These new chemical reactions will enable the synthesis of biologically active natural products implicated in cancer, infection and cardiovascular disease.
The following is a submitted summary of Stephenson's talk, "Visible Light-Enabled Catalysis":
Visible light sensitization is an attractive means to initiate organic reactions due to the lack of visible light absorbance by organic compounds reducing side reactions often associated with photochemical reactions conducted with high-energy UV light. 
In particular, the use of photocatalysts such as Ru(bpy)3Cl2 with an appropriate electron donor or electron acceptor permits the selective functionalization of many organic molecules. These processes offer improved chemoselectivity over current approaches while enabling the reduction of stoichiometric waste byproducts and toxic or hazardous reagents. Our synthetic and mechanistic investigations into generalizing the utility of visible light photoredox catalysis as a means of accessing organic reactive intermediates (free radicals, radical anions, radical cations) along with their application in complex molecule synthesis will be presented.